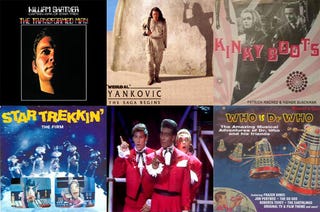 We've all grooved to William Shatner's "singing." But the history of science-fiction novelty records is much bigger, and weirder. From Weird Al's tribute to Yoda to Wonder Woman covering Toto, there have been many bizarre discs that celebrated science fiction.
For convenience, we've broken up this list of the greatest novelty records into several categories — we can't even begin to pretend this is an exhaustive list, so please suggest your own favorites in comments!
Actors doing records to cash in on their fame
A lot of well-known science fiction actors have put out records to try and capitalize on the success of their shows or movies.
In particular, there's Star Trek. Virtually every Star Trek actor has put out a record at some point, many of them with covers and/or titles intended to remind you of where you've heard this person's dulcet voice before. There's a complete list over at TrekMovie — although they left out Star Trek: Deep Space Nine's Cirroc Lofton, who made a Trek-themed rap CD. (Did it ever actually come out? It's not on Amazon.)
Most notably, Leonard Nimoy did an album called Mr. Spock's Music From Outer Space, featuring the Vulcan-themed song "Highly Illogical." (He also did the classic "Ballad Of Bilbo Baggins," which we're all expecting will be the theme song to Peter Jackson's new Hobbit movies.)
And Shatner did an album called The Transformed Man, with a very Kirk-like cover. Some of his recordings are very science fiction-based, especially his 1977 live album, and his 1978 performance of "Rocket Man." Nichelle "Uhura" Nichols had an album called Out Of This World. And Brent "Data" Spiner did an album called Old Yellow Eyes Is Back. Someone got me a Tim Russ CD as a punishment gag gift, and it has some songs about outer space on it.
Doctor Who star Jon Pertwee also put out a song called "I Am The Doctor," in which he sort of raps about being an ageless time traveler, over the show's theme tune. Including the all-time great line, "Through cosmic waste the TARDIS flies/To taste the secret sauce of life." What??? It's pretty classic stuff:

But also, the Second Doctor's most faithful companion, Fraser Hines, put out a couple of Doctor Who-themed records in the 1960s: "Who's Doctor Who" and "Time Traveler." And Roberta Tovey, who played the companion in one of the 1960s Peter Cushing films, put out a record called "Who's Who."
And then Doctor Who stars Colin Baker and Nicola Bryant took part in a "We Are The World"-style group performance to help save the show when it was nearly cancelled in the mid-1980s, called "Doctor In Distress." We covered the sheer horror of that album here.