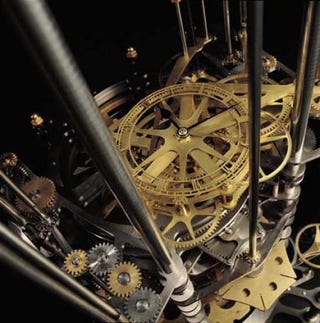 In this week's "Ask a Physicist," we're going to figure out why the universe we inhabit isn't Flatland, Tesseractland, or Doubletimeland. Or, at very least, we're going to figure out why those worlds would suck at harboring complex life.
This week's question was posed by Richard Henretta via my facebook fan page. He asks:
This could easily be classified a stoner question, but what would the universe look like if there were 2 dimensions of time?
It is a stoner question, but that won't stop me from answering it. Let me dispense with the obvious. From a macroscopic perspective, there are three dimensions in space. I don't care if you call them up-down,left-right,and forward-back, or x,y,z, or whatever you like. The fact is that we can only move in three-d.
There is also just a single dimension of time, and the main difference between time and space is that unlike with space, you only get to move through time one way, and at a rate of 1 second/second. It's this succession of events through time that define our experiences. Within the timeline of a single individual, it always makes sense to say, "A came before B." Once you start with multiple observers and relativity, all bets are off, but let's not get distracted with that today. It doesn't change the fact that in any local frame, there's just one way for time to go.
But why is the universe made this way? Everything we know about the standard model is built on the assumption that the universe has 3+1 dimensions, but it doesn't actually tell us why that has to be the case.