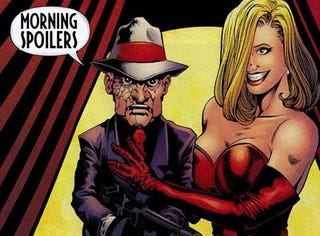 X-Men: First Class pays tribute to Bryan Singer's original movie from the first scene...with a twist. Nic Cage fights Satan in Ghost Rider 2. John Malkovich explains his Transformers character. Colonel Tigh is back as the DC universe's deadliest assassin.

X-Men - First Class:
The movie will reportedly reenact the opening scene of Bryan Singer's X-Men, in which we see the future Magneto lose his parents in a Nazi concentration camp. Matthew Vaughn is reportedly reshooting the scene with Bill Milner taking over as young Eric Lensherr both to honor Singer's original movie and to make it clear this film is in the same continuity as the previous movies. Vaughn's recreation is reportedly almost a frame-for-frame match, although it features a couple of dramatic new twists on what we saw in the 2000 version. [Bleeding Cool]
Star Trek 2:
Karl Urban, perhaps the world's finest DeForest Kelley impersonator (which is good, considering he plays Bones), had this to say about the sequel:
"I have no doubt that we will be able to continue to strengthen and deepen those relationships," he said. "To me that was always the most interesting thing about 'Star Trek,' is that it was character-driven. It's a wonderful, smart thing that J.J. [Abrams] and Roberto [Orci] and Alex [Kurtzman] have done, to maintain that. I think there's such a wonderful, rich tapestry of characters and territory to explore."
The Hobbit:
I know we've said this before, but this time we (might) really mean it - The Hobbit will reportedly be greenlit in the next couple of days, with Peter Jackson officially on board to direct. [The LA Times]
And a few more details - the two movies will reportedly be shot in 3D, and Peter Jackson is reportedly shooting for release dates in December 2012 and 2013, because otherwise he can't fit the movies into schedule. [The New York Times]
Thor:
The November issue of Empire Magazine will feature an extensive preview of the movie, but for now we'll have to make do with just an ultra low-res image of the cover, which shows off Chris Hemsworth as Thor: [Comic Book Movie]
Ghost Rider - The Spirit of Vengeance:
Ciarán Hinds (Munich, Rome) is reportedly in negotiations to play Satan (or perhaps his more theologically ambiguous Marvel equivalent, Mephisto) in the sequel. The story would reportedly find Nicolas Cage's Johnny Blaze hiding out in eastern Europe, where he gets recruited by the mother of the Devil's son to save the boy before Satan can possess him. The mother would reportedly be played by Italian actress Violante Placido. You know, between this and Drive Angry, Nic Cage might as well just put "fighting Satan for the lives of children" on his business card. Actually, who says he hasn't? [Heat Vision]