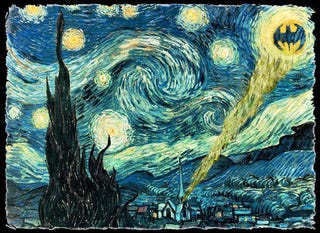 Ah, October. The nights are cooler, the stars are brighter, Caprica and Fringe are back on the air, and new trailers for Monsters and Skyline are debuting. Also, Gotham City by way of Van Gogh. Enjoy.
Find out about the alien infestation in this exclusive clip from "Monsters"
Ever since that space probe crashed down in Mexico, giant monsters have been rampaging. The US has erected a huge wall along the Mexican border to keep them out. Find out what's happening south of the border in this scene.