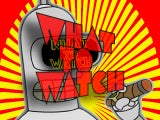 This week is chock full of excitement, including the return of Caprica, Ben 10, Ugly Americans and MythBusters! Supergirl comes to Smallville, and Walternate reveals his plans on Fringe. Plus new Chuck, SGU, Fringe, The Event and No Ordinary Family.

Today:
After a bit of a hiatus, there's another new Scooby Doo - Mystery Inc. at 7 PM on Cartoon Network, with "Howl of the Fright Hound":

And that's followed by a new Johnny Test at 7:30 PM.
There's a new Chuck on NBC at 8 PM. A prisoner transfer brings some old "friends" back to Chuck's life.

There's also a new House on Fox at 8 PM, "Unwritten."
Cartoon Network also has a new Regular Show at 8:15, Mad at 8:30 PM, and then Total Drama World Tour at 9 PM.
And then there's week three of The Event at 9 PM on NBC. Here are another six sneak peeks:

Movies:
Comedy Central is showing Idiocracy at 7 PM, in case you want a probably way-too-accurate view of our dumb future. (It's also on the following day at 3:30 PM.) Also, the start of M. Night Shyamalan's long descent into the abyss, Signs, is on Encore at 8 PM. And then IFC proves they really do know quality, by having Beyond Re-Animator at 10:35 PM.
Tuesday:
No Ordinary Family is back on ABC at 8 PM, with a storyline where Jim tries to track down bank robbers. After reading large chunks of the scripts for the next few episodes, I was left with the feeling that the show settles into a better rhythm after the weak pilot. Here are a couple clips, so you can judge for yourself: