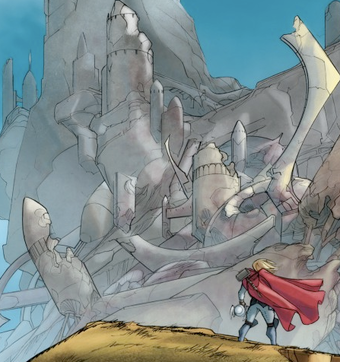 It's a diverse line-up at your friendly neighborhood comic book store tomorrow. Among many things, there's new Thor and Walking Dead, classic horror tales from comic masters, and a reprint of a great graphic novel from the director of Mirrormask.
First off, there are some interesting Thor titles on the stands this week. Thor: The Mighty Avenger Double Rainbow (Marvel) collects the first two retro-tinged issues of Thor: The Mighty Avenger, and Thor 615 introduces the new creative of Matt Fraction and Pasqual Ferry to the flaxen-haired god's main book — Ferry's art really gives high fantasy and scifi a otherworldly look (see: his work on Ultimate Fantastic Four), so he's a good fit for Fraction's consummately savvy scripts. Also from Fraction is Uncanny X-Men 528 (Marvel), an issue about Emma Frost and Kitty Pryde discussing the latter's intergalatic bullet ride.
Image's Walking Dead 77 hits the stands today. Rick and the gang are making the uneasy transition to suburbia; it seems as if moving to the prison way back when was an easier proposition. Also debuting this week is Skullkickers 1 (Image), a fantasy yarn about medieval mercenaries getting medieval that's been getting some serious buzz/internet speculation. Speaking of buzz and bad behavior, Mark Millar and Steve McNiven's Nemesis 3 (Marvel/Icon) is out today — this series isn't done, but Tony Scott's already on board to direct its film adaptation.