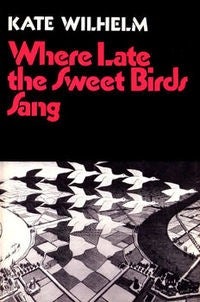 The musical, measured Where Late the Sweet Birds Sang, by Kate Wilhelm — which won the Hugo in 1977 — is an artful admixture of clones and poetry, with a message that'll never get old.
Here's a funny thing: After I finished this book, literally the next one I happened to pick up, absolutely coincidentally, was Seize the Day by Saul Bellow. (I'm on this kick where I'm reading Nobel winners, too; hoping it'll make me smarter.) Now, it was published in 1956, and I'd never read it before.
So it was with some surprise that I discovered, quoted on page ten, the last line of Shakespeare's Sonnet 73 — which is, of course, the same poem from which Where Late the Sweet Birds Sang takes its title. Compounding my surprise into full-blown astonishment, a moment later it sunk in that the name of Seize the Day's hapless protagonist is...Wilhelm.
Whoa, that's a full rainbow! What does it mean? I dunno. I believe in God, so I would take it as a sign or portent, but I'm not sure if it's an indication that I'm on the right track — you know, life-wise, or at least reading-list-wise — or divine instruction that I should quit everything else and study the Bard. Or a directive to take up ornithology.
Anyway, let me tell you about the book.
It is divided into three sections and deals with life in a post-nuclear-apocalypse America — as a result, it's a bit reminiscent of A Canticle for Leibowitz. In the first part, "Where Late the Sweet Birds Sang," we meet the Sumner clan of Virginia, a wealthy and scientifically minded farming family whose elders see Armageddon on the horizon and prepare by founding a compound, centered around a research hospital where they hope to breed and clone livestock and crops, and thereby sustain a remnant of civilization for the dark age ahead.