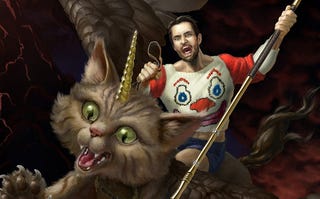 We all marveled at the fan art that showed Wil Wheaton riding a unicorn-dragon-kitten into battle with an Orc John Scalzi. And now you can read the true, and unquestionable stories behind the image. For charity!
Clash Of The Geeks, the chapbook that the year's most bizarre image spawned, is available now. You can read it online for free, but a donation is requested. Here's the press release:
CLASH OF THE GEEKS, A FANTASTICAL, CHARITABLE CHAPBOOK FROM WIL WHEATON AND JOHN SCALZI, IS NOW AVAILABLE AT UnicornPegasusKitten.com

Wil Wheaton, John Scalzi and Subterranean Press are proud to announce the publication of CLASH OF THE GEEKS, a special and fantastical electronic chapbook. It features stories by Wheaton, Scalzi, New York Times bestseller Patrick Rothfuss, Norton Award winner and Hugo Best Novel nominee Catherynne M. Valente, Hugo and Nebula Award nominee Rachel Swirsky, and others, and is for the benefit of the Michigan/Indiana affiliate of the Lupus Alliance of America.

The chapbook is available in multiple DRM-free electronic formats at http://unicornpegasuskitten.com. It is free to download, but voluntary payment is strongly encouraged, via Paypal or by tax-deductible donation, with links to both provided at the unicornpegasuskitten.com Web site. All proceeds from this chapbook will go to the Michigan/Indiana affiliate of the Lupus Alliance of America.

In addition to the professional writers who agreed to contribute works, Wheaton, Scalzi and Subterranean Press also ran a "fan fiction" contest, in which anyone could submit a short story based on the picture. From hundreds of submissions, two stories, by Bernadette Durbin and Scott Mattes, were chosen. In addition, songwriter John Anealio composed a ballad, the musical transcription of which is included in the chapbook, and online gaming community legend Stephen Toulouse contributed a tech-oriented one-act play.

CLASH OF THE GEEKS was conceived from the beginning as a charitable vehicle, to help raise funds for the fight against lupus, the autoimmune disease which afflicts more then five million people worldwide and more than a million and a half people in the United States, including Gretchen Schafer, the wife of Bill Schafer, owner and publisher of Subterranean Press. Learn more about lupus at http://www.lupusalliance.org/content.asp?id....

WIL WHEATON is an acclaimed actor (Star Trek: The Next Generation, Big Bang Theory, The Guild), Internet celebrity, co-founder of the w00tstock geek festivals, and writer. His book The Happiest Days of Our Lives is available from Subterranean Press.

JOHN SCALZI is a New York Times Bestselling author, three-time Best Novel Hugo Award nominee, and the winner of two other Hugo Awards. He is the Creative Consultant for the television show Stargate: Universe and a columnist for the FilmCritic.com Web site.