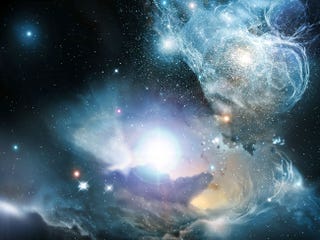 In this week's "Ask a Physicist," we deal with a crazy and exciting question. Is the Fine Structure Constant really a constant? Maybe. Okay, probably.
I have a secret to tell you. More than 90% of the cutting edge science that you read in the news is wrong. There's great fanfare when somebody announces that they have a theory which would overturn Einstein or quantum mechanics, but complete silence when it turns out that the theory makes no predictions, or worse, is already demonstrated to be wrong by what we know. Scientific revolutions happen pretty infrequently, which is why they're a big deal. This is why I tend not to report on new observations or ostensibly groundbreaking theories.
I'll make an exception today. For one thing, it's Mad Science Week here at io9, so why not go out on a limb? But for another, an interesting set of observations was announced a few weeks ago that got my attention.