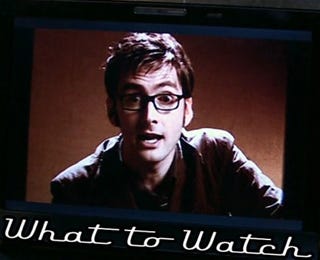 This week sees the premiere of The Event and J.J. Abrams' Undercovers, plus the unholy rise of Sharktopus! There's also the returns of Chuck, Fringe, Supernatural and Smallville, and the shocking season finale of Warehouse 13. Television loves us again!

Today:
There's the season opener of Chuck on NBC at 8 PM — if you weren't already pumped for another season of this show about a misfit spy who downloads a super-database (and lately, super-skills) into his brain, then the promise of Linda Hamilton playing Chuck's mom ought to be enough to win you over. (They should just have Linda Hamilton and Lena Headey alternate playing Chuck's mom, and nobody ever comments on it.)

That's followed by this fall's most promising debut, The Event, at 9 PM on NBC. It's a weird conspiracy show, involving a kidnapping and a secret facility that even the President doesn't know about — but the first episode gives you enough answers to know that something other-worldly is going on, and to start putting the pieces together. Jason Ritter, as the show's lead, manages to provide enough emotional intensity and smarts to keep you following him through what could otherwise be a confusing sprawl of plot lines — and Blair Underwood is fantastic as the president.
There's also the season opener of House — a show which sometimes has some very speculative medical science — on Fox at 8 PM.
The Cartoon Network once again has a whole roundup of weird cartoons, starting with a new Scooby Doo - Mystery Inc. at 7 PM, Johnny Test at 7:30, Adventure Time at 8 PM, Regular Show at 8:15, and Mad at 8:30 PM, rounding up with Total Drama World Tour at 9 PM.
Behold Avaturds:

And there's a new Scream Queens on VH1 at 10 PM, along with a new Mystery Diagnosis on Health: "The Woman With Unusual DNA."
Movies:
Syfy is showing prehistoric action movies all day long. And at 2 PM, AMC has Volcano, followed by Superman Returns at 4:30 PM and Mad Max at 8 PM and 10 PM. Independence Day is on ABC Family at 8 PM — and also at 8 PM, Blade: Trinity on the Spanish-language TeleFutura, and Twilight is on Showtime. At 10 PM, Cinemax has Cirque Du Freak: The Vampire's Assistant.
Tuesday:
It's the second season finale of Warehouse 13, on Syfy at 9 PM. We've watched this episode already, and it's chock full of excitement — and a lot of loose ends get tied up that you might have thought were just abandoned forever. Pete and Myka both make fateful decisions, and we learn what H.G. Wells is really up to — and it's not at all what you thought.
And to help you get up to speed, Syfy is showing a marathon of Warehouse 13 season two all day long.
Also, the first season finale of Unnatural History is on the Cartoon Network at 8 PM.

And then there's Spike's show 1001 Ways To Die at 10 PM, along with a new episode of post-apocalyptic reality TV show The Colony on Discovery.
Movies:
True to its name, AMC is showing classics all day long starting at 11 AM, with Pitch Black, Virus, The Terminator, Mad Max and Mad Max II: The Road Warrior. The Day After Tomorrow is on FX at 7:30 PM. And Hancock is on Encore at 8 PM. Finally, 2008's Day Of The Dead, with Ving Rhames, is on Showtime at 1:10 AM.
Wednesday:
J.J. Abrams' new spy show, Undercovers, starts at 8 PM — it's not as overtly science fictional as his previous spy efforts like Alias or Mission Impossible III, but we're hoping that will change over time. In any case, the pilot is splashy, fun, and thrilling — a retired spy couple (Boris Kodjoe and Gugu Mbatha Raw) are working in the catering biz, when they get pulled back into the spy life — but can they track down the bad guys without ruining their big catering gig? It's a weird mix of high-stakes action and cooking, with a nice romantic comedy twist as well.
Science has another Sci-Fi Science: Physics Of The Impossible at 10:00 PM, dealing with "Alien Invasion."
Movies:
Syfy is showing weird alien movies all day — most notably, at noon, they have Decoys 2: Alien Seduction, the movie in which female aliens use their psychic powers to ensnare human men by transforming themselves into nurses and dominatrixes — and then the sexy, sexy aliens shove their tentacles down the men's throats, impregnating them with alien offspring. [Link is maybe NSFW.] (For some reason, the men have to be turned on, and it has to be freezing cold, for this to work.) Also, at 11:30 AM, Showtime is showing Jack Nicholson in Wolf, the movie that finally explains everything there is to know about the publishing industry.