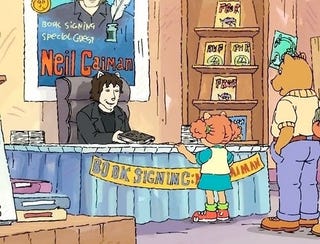 This week, True Blood wrapped up, subatomic particles remained perplexing, and Panzer 88 showed us Nazis versus eldritch nasties. Oh, and here's Neil Gaiman as a furry version of himself from the October 25 episode of PBS kids' show Arthur.
Most misleading and fanciful science fiction/fantasy movie posters ever!
Movies carry us away to fantastical worlds, but the journey begins with super-vivid poster-art. The best movie posters are an art-form all their own... but sometimes, it's the art of deception. Here are the most misleading posters of all time.