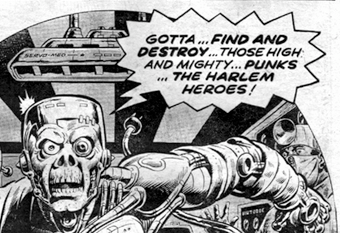 Screw football season — comic book Wednesday is where the real gridiron is. We've got futuristic kung-fu sports, mutant deathmatches, and a planet-sized Dr. Doom. Oh, and sultry Norse vampires. That has to count for something.



First off, we have Unwritten 17 (DC/Vertigo) — Lizzie Hexam is Tom Taylor's mysterious overseer. Trust series scribe Mike Carey to deliver her backstory in a Choose-Your-Own-Adventure. We need more Choose-Your-Own-Adventure comics. For more, pick-a-path storytelling, check out Jason Aaron's "What If" story in Astonishing Spider-Man/Wolverine 3 (Marvel). It's Spidey and Logan versus Doom The Living Planet in a post-apocalyptic Marvel future. Apparently ol' Vic's ego is so big he had to take over that goateed planet named Ego.
There's also True Blood 3 (IDW) — Alan Ball co-pens this comic in which Eric's memories of the Inquisition unleashes supernatural trouble for the Bon Tempers stuck in Merlotte's. Remember when True Blood was about crazy historical flashbacks and not Jason Stackhouse's inbred army of cat-people? This should be up your alley then. If medieval Rat-People are more your speed, Joe The Barbarian 7 (DC/Vertigo) is out. Grant Morrison's penultimate chapter of Joe The Dying Boy continues with an adventure to Cellarworld. Something tells me the ending will be a tearjerker or some sort of Invisibles-style reality detonation. Green Lantern Emerald Warriors 2 (DC) delivers not tears, but bloody astrovomit — Guy Gardner continues his secret mission for Atrocitus, but will his rage and willpower combine to become a Burnt Sienna Lantern?
As far as trade paperbacks go, we have Prison Pit 2 (Fantagraphics) from Johnny Ryan — we interviewed Ryan recently about this ultra-violent meditation on mutants, blood, and swearing. Incorruptible Volume 2 (BOOM!) from Mark Waid promises similar bad behavior starring reformed supervillain Max Damage and his underage ward, Jailbait. Fabien Nury and John Cassaday's I am Legion (Humanoids) also has a collection edition about Nazis seeking a vampire child in World War II. Other notable collections this week include the Star Wars: Dark Empire Trilogy hardcover (Dark Horse) and the Tank Girl Royal Escape trade (IDW). The former collects the post-ROTJ extended universe, the latter compiles a modern take on the outback heroine.