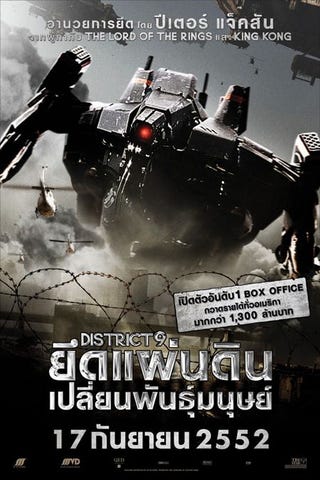 Movies carry us away to fantastical worlds, but the journey begins with super-vivid poster-art. The best movie posters are an art-form all their own... but sometimes, it's the art of deception. Here are the most misleading posters of all time.
Welcome back to Monday Hate, an irregular column in which we hate things because it's Monday.
Oh, and before we get started, a bit of a disclaimer — obviously, there's a lot of creative license that goes into movie posters, and sometimes the coolest looking posters are the ones that don't exactly depict what's happening in the movie. With that in mind, some of our candidates for "most misleading poster" might be just slightly tongue-in-cheek, and we're celebrating the awesomeness of poster art as well as its potential for false advertising. Oh, and there are going to be a few DVD covers in the mix too, including a couple of hilarious bootlegs. With that out of the way, here we go!
First, a Thai movie poster for District 9, which features huge killer mechas stalking the countryside. If Michael Bay had directed this film, this is what you'd have gotten. Via Cinematical..
Additional reporting by Mary Ratliff and Kelly Faircloth.

Another Thai District 9 poster. Via Cinematical.

This is only slightly misleading, but it's also one of the most famous examples — showing Luke with a sixpack he never had, and Leia with an awesome outfit she never wore.

The Day The Earth Stood Still poster from Sweden. Mars? Really? Plus like the U.S. poster, it doesn't say "aliens arrive to tell us to mend our ways." It says, "Aliens arrive to blow shit up and fuck with us."

Japanese Omega Man poster. That's a mighty big gun Charlton is hoisting, and if only the mutants looked that cool in the movie.

Another totally amazing Omega Man poster. A bit more accurate but still too splashy/awesome.

As various people have pointed out, this scene does not appear in the movie Forbidden Planet.

It's an orgy, and you're invited! Actually, that probably doesn't actually say ORGY. It's the Polish poster for Aliens. I think you're losing some eyes there, bud.

Another Polish Alien poster.

Having seen Cyborg 2 fairly recently, I can attest that Angelina Jolie doesn't have magic glow-in-the-dark boobs in it.