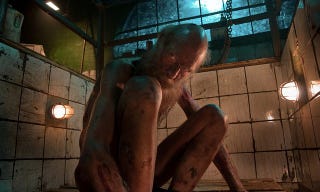 Check out the latest and greatest addition to the Christmas horror flicks:Rare Exports, a film where Santa is trotted around like the raptors in Jurassic Park. Also, Transfers teaches us you don't need to get old, just rent younger bodies.


Rare Exports
Behold evil meth-face Santa from Rare Exports. We're not actually sure what Old Saint Nick did that would cause him to be locked forever in a mountain up North, but it can't be good. This yuletide horror film follows what happens when a group of exporters uncover a still alive Santa Claus, entombed for the Easter-Bunny-knows-how-many years. The trailer looks pretty slick, and you gotta love the naked stills of skinny Santa below. And to any haters, can it with the "Futurama did it first." He's clearly not a robot. The film will have its world premiere at Fantastic Fest.
Transfer
Who needs to get old when you're rich enough to rent out a younger body for 20 hours a day? Although it's probably not ideal if you're the one being rented. Take a peek at the stills from Damir Lukacevic's movie Transfer, which will also have it's world premiere at Fantastic Fest.
Official Synopsis:
Herman and Anna, a wealthy aging couple decides to extend their lives by leasing the bodies of two young Africans. For one million euros, the Africans signed away their lives for 20 hours a day, but in the 4 hours a day they have back in their own bodies, they begin to regret the arrangement.
Side Note: Another film that we're equally excited about playing at Fantastic Fest this year is Agnosia. Go watch the trailer, because it's gosh darn gorgeous.