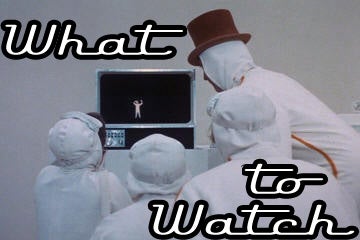 Television is trying harder this week — including the return of Genndy Tartakovsky with Sym-Bionic Titan and more Star Wars: Clone Wars. Plus an extra-awesome Warehouse 13, Tourettes Syndrome, original V, fire-dragons, Venture Bros., Nazi Super-Bombs, Jared Diamond... and Wall-E!

Today:
It's another evening of weird cartoons on the Cartoon Network, with a new Johnny Test at 7:30, Adventure Time at 8 PM, Regular Show at 8:15, and Mad at 8:30 PM, rounding up with Total Drama World Tour at 9 PM. But no new Scooby Doo this week, sorry.
Wondering what the deal is with Regular Show? Here's the first episode:
Health has a new special one-hour report, called Tourettes Uncovered, at 9 PM.

And there's a new Scream Queens on VH1 at 10 PM.
Movies:
If you rush home, you can catch the 3 PM showing of National Lampoon's Homo Erectus on Comedy Central. According to TV Guide:
Adam Rifkin wrote, directed and stars in this primitive farce about a nerdy and bespectacled caveman who lusts after a blonde beauty (Ali Larter.)
It also has David Carradine! Also, Disney is showing the Tim Burton Charlie and the Chocolate Factory at 2 PM.
Tuesday:
There's a new Unnatural History on the Cartoon Network at 8 PM, called "Speetlemania," in which "The gang discovers an extinct beetle species."

There's a new Warehouse 13 on Syfy at 9 PM, "Buried": "When Mrs. Frederic is stricken ill, the agents must search for a cure before it's too late." And here are a couple of sneak peeks:

There's also a new It's Effin Science on G4 at 9 PM, in which the team launches a refrigerator and builds the world's fastest shopping cart.
Then at 10 PM, there's the third season premiere of Spike's show 1001 Ways To Die, in which "Spike TV continues to look at the brightly ironic side of death." There's also another episode of post-apocalyptic reality-show The Colony on Discovery.
And at 10:30 PM, it's the fourth season finale of The IT Crowd on IFC, "Reynholm V. Reynholm":

Movies:
Today's "stay home from work" movie is The Misadventures of Merlin Jones on the Hallmark Channel at 11 AM. It's about "a student whose experiments with mind reading get him in trouble with the law." And it features Annette Funicello! And then at 5 PM, G4 has Aliens and the Cartoon Network has Spy Kids 3: Game Over. Then at 3 AM, Syfy has The Butterfly Effect III: Revelations.
Wednesday:
Health has another one of its one-hour specials, this time called "My Child Won't Talk," at 8 PM, followed by another special, "My Kid's Smarter Than Me," at 9 PM. (Could there be a connection?)

Science once again features Sci-Fi Science: Physics Of The Impossible at 10:00 PM, all about "A New Solar System."
It's the first season finale of Chasing Mummies at 10 PM on History, called "Buried."
Movies:
At 4:45 AM, AMC is showing How To Make A Monster, about horror movie actors who are hypnotized into becoming real killers. Pan's Labyrinth is on the Sundance Channel at 8 PM and 2 AM. Then at 9 PM, Oxygen continues their quest to make Catwoman one of the most-shown movies on cable.
Thursday:
Syfy is having a marathon of the original V from 8 AM to 3:30 PM, in case you want to relive the awesomeness of the 1980s and refresh your memories before the remake comes back. Not to mention watching for some of the show's ridiculously inappropriate moments.