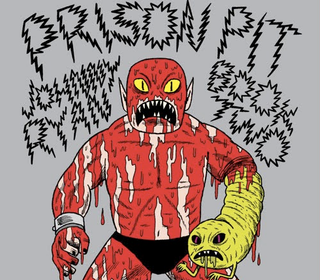 Johnny Ryan creates comics that would make your grandmother spontaneously combust from an overdoes of ribaldry. In his latest graphic novel Prison Pit 2, cyborg monster barbarians systematically eviscerate each other. Ryan talked to us about the onslaught of grotesqueness.
Note: The below article contains images that are A.) likely NSFW; and B.) roundly unpleasant.
How does one sum up Prison Pit 2? Well, it's a sequel to the first Prison Pit, which was about a terrible monster sapien named C.F. battling mutants in a hellhole universe, losing his arm, and attaching another tapeworm-like mutant to the stump. In this latest volume, C.F. is still looking for his arm. This mostly wordless quest is punctuated by grunts, profanity, duels with nameless monstrosities, and geyser upon geyser of bodily fluid. Oh, and there's a chapter in which C.F. must have sex with a mutant pterodactyl. It's not unlike Masters of the Universe...if Masters of the Universe was a hentai that starred Gwar.
The book is truly the most acquired-est of tastes. If the idea of an episode of Fist of the Northstar with 99% more explosive deaths sounds righteous, you'll like Prison Pit 2. If you thought Heavy Metal made too much sense, you'll like Prison Pit 2. If you like your body horror with a side dish of corrosive acid vomit, you'll like Prison Pit 2. This book is the greasy plaque that builds up on your id over the years. We caught up with Ryan at the Prison Pit 2 release party at Mishka NYC in Brooklyn. Here's what he had to say