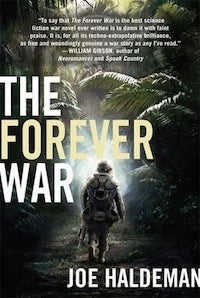 It's been nine years since our own interminable War on Terror started. Can we learn anything from 1976's Hugo-winning novel, Joe Haldeman's The Forever War?
Briefly-ish, three notes before we get started. You can safely skip the first, longest one if you want:
1) First, a mild digression: I finished The Golden Notebook by Doris Lessing a few days ago, which was just wonderful, and I don't want to discuss the book here, but I do want to mention something the author wrote in her 1971 introduction to it. (By the by, these days I generally read introductions and forewords and the like after I've finished a book, a practice I would highly recommend as more illuminating and better for your mind than reading them first.) In the introduction, a really fine and instructive complaint about the difference between how a writer perceives their work and how the public and critics perceive it, Lessing comments that:
...a young man or woman, reviewer or critic, who has not read more of a writer's work than the book in front of him, will write patronisingly, or as if rather bored with the whole business, or as if considering how many marks to give an essay, about the writer in question — who might have written fifteen books, and have been writing for twenty or thirty years — giving the said writer instruction on what to write next, and how. No one thinks this is absurd, certainly not the young person, critic or reviewer, who has been taught to patronise and itemise everyone for years, from Shakespeare downwards.
That hit home, especially after my last review in this series, which I think was accurate after a fashion but I know could have been better informed. Even though I have tried to avoid writing about books in the manner Lessing describes, I have totally fallen into that trap, on multiple occasions. It's hard not to! I wish I had more time to do all the additional reading before writing one of these posts (in today's case, Joe Haldeman has written other books in the same series, one of which we'll get to eventually), and I wish I were better at developing thought-provoking arguments that didn't simply hinge on my opinion of a novel's relative quality (and I hope I'm improving at least a little on that front). Anyway, this is merely a self-indulgent clarification: I don't presume to believe that any of these posts are the last word — not even my personal last word — on these books; and even when I'm at my most stridently opinionated, my aim is to stimulate people's brains a little, rather than to pronounce judgment.