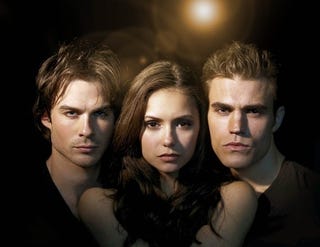 In the universe of The Vampire Diaries, vampires can eat cheese along with other normal human foodstuffs. Which is a good thing, since The Vampire Diaries is the most awesomely cheesy television program we've seen in years. It's can't-miss television.
Spoilers for season one of Vampire Diaries below.
When The Vampire Diaries started a year ago, we pretty much wrote it off as a silly, unworthy spawn of the Twilight craze. (Although it's based on a longstanding book series by L.J. Smith.) But we were so wrong. We've watched the whole first season, which is now out on DVD, and it's way better and more fun than we'd realized. It is definitely extremely silly, but as you'd expect from a show by Scream's Kevin Williamson (and Kyle XY's Julie Plec), it's actually pretty clever and self-mocking at times — and when it does descend into mopey emo medleys about the characters feeling their feelings, it's still pretty hilarious.