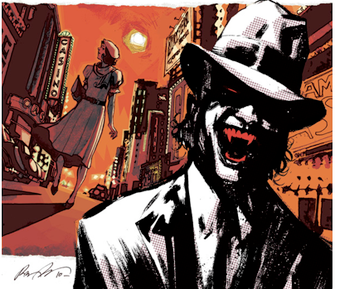 This week's comic crop brings us some wacky anachronism. Vampires run amok in 1930s Sin City, Billy the Kid investigates the Whitechapel Murders, and supernatural firearms invade the Old West in a new title from Oni Press. Here's what's up.


American Vampire 6 (DC/Vertigo): Scott Snyder kicks off a new chapter of the American Vampire saga — Skinner Sweet and Pearl hit 1935 Las Vegas. Exsanguination (and this awesome cover by Rafael Albuquerque, above) follow in their wake.
Weird War Tales One-Shot (DC): Darwyn Cooke does the cover to this one-shot and supplies a story as well. Fingers crossed for a Haunted Tank cameo.
Billy The Kid's Old Timey Oddities And The Ghastly Fiend - London 1 (Dark Horse): Billy the Kid hunts down Jack the Ripper in this alternate history tale from Eric Powell of The Goon. Guest-starring The Elephant Man and featuring a back-up story featuring The Goon himself.
Daken - Dark Wolverine 1 (Marvel): Wolverine's bisexual, tattooed, pheromone-powered son makes his move now that his father's body and soul are betwixt and between Earth and Hell.
Amazing Spider-Man 641 (Marvel): "One Moment In Time" (OMIT) concludes, thus wrapping up the events of One More Day (OMD) and Brand New Day (BND). Hopefully this will usher in a new era in Peter Parker's life called "New Other Moment. Not One Moment Now Omitted Momentarily" (NOMNOMNOM).
Kill Shakespeare 5 (IDW): Hamlet strikes out on his own against the Bard in this series about Shakespeare's creations on the revolt.
Lucid 1 (Archaia): Zachary Quinto and Michael McMillian of True Blood fame deliver this intriguing tale of American combat mages. You can read our review of the book here.