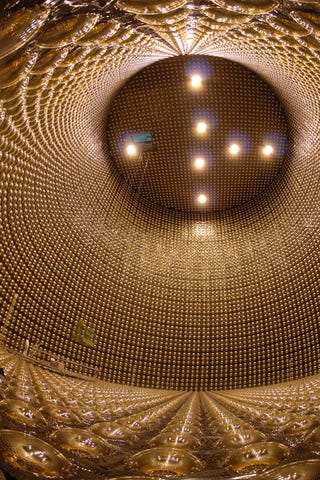 In this week's "Ask a Physicist," I get counter-factual and imagine what would happen if we had perfect control over neutrinos. Would we build a death ray? Escape from an Inception dreamscape? Here's what would really happen - sort of.
I've known I wanted to do a bit on neutrinos for a while now, and at first, I thought of inventing a reader, but figured that you guys would think a question from a Mr. H. Jablomie would be a bit low class. I decided instead to cheat somewhat less, and prompt our editors, Charlie Jane Anders and Annalee Newitz, to feed me a question. Consider this all the more incentive for you to send me questions. Here's what they came up with:
What could we do if we could completely control the behavior of neutrinos?
What does it mean to to completely control the behavior of neutrinos? Make a high-intensity neutrino beam? Harness the neutrino flux from the sun? I generally try to stay away from counter-factual questions. After all, we can't completely control neutrinos. However, I decided to make an exception in this case.
Why? Because it's pretty clear that Charlie Jane and Annalee are in line to join the Evil League of Evil, and would like my help in designing a doomsday device. And I have no problem with that.
I'm going to look at a few neutrino powered scifi devices later, but first we should probably say a few things about how neutrinos work. They are perfectly ordinary particles in lots of ways. Except for the fact that they don't have any electrical charge, they're almost identical to electrons, but much much less massive. Because they are both low-mass and neutral, they are very hard to detect. In fact, they interact with other matter almost entirely via the weak nuclear force. They interact so weakly, in fact, that you could shoot a neutrino through about a light-year's worth of lead and only have about a 5% chance that the neutrino hits anything en route.
Wolfgang Pauli realized way back in 1930 that neutrinos must exist, because when neutrons decay, the resulting protons and electrons recoil in such a way that it was very clear that there was some sort of missing particle. The neutrinos weren't detected experimentally for more than 25 years after that. I bring this up just to point out that it's very possible to theorize (correctly) that a particle exists long before the particle itself is ever detected. I'm just saying.