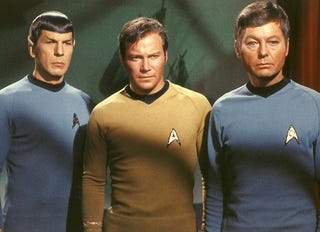 Even if you're a massive science fiction fan, there are probably still some great shows you've yet to discover. But for massively long-running shows, where to begin? Here's our guide to how to start watching twenty classic science fiction shows.
It should be pointed out that this guide is meant for potential new fans, not people who already love these shows. We advise in quite a few instances to skip entire seasons of shows, and that's not something a big fan of a show is likely to agree with. But this is all about the best way to get hooked on a show, and we of course recommend checking out the rest of a series once you've sampled the best of what a show has to offer.
We're also focusing more on seasons of shows than specific brilliant episodes, because it's easier to reach consensus - and thus make useful recommendations to the most people - on an entire season than one particular episode. So, let's start with the biggest, most daunting science fiction franchise of them all...
Star Trek: The Original Series
Since it only ran three seasons, the easy answer is just to tell you to watch all of it. Unfortunately, the third season has a whole lot of badness in it, which is the result of slashed budgets and the influence of new producer Fred Freiberger. (He also presided over the similarly derided second season of Space: 1999.) There are a few decent episodes in there - "The Tholian Web" is probably the best of the bunch - but most of the classics are to be found in the first two seasons, and almost all the notoriously awful episodes ("Plato's Stepchildren", "Spock's Brain") are season three entries. So just stick with seasons 1 and 2, then head into season 3 with extreme caution.
Star Trek: The Next Generation
This one is fairly straightforward - start with season three. The show hit some real lows in its first season, and anybody unsure about whether they like TNG is unlikely to get past the first dozen or so episodes. The second season, while a bit of an improvement, is missing one of the show's main cast members, as Gates McFadden's Dr. Crusher was replaced by Diana Muldaur's Dr. Pulaski. There's a lot to like about the second season (and Pulaski is hardly a total disaster), but everything clicks into place with the third season. That season has the added benefit of ending on what may be the biggest cliffhanger in television history. If that doesn't have you coming back for more, nothing will.
Star Trek: Deep Space Nine
Deep Space Nine was a far more arc-driven show than The Next Generation, so there's slightly more to be gained with starting at the beginning and putting up with the show's growing pains (which, to be fair, were never as bad as TNG's). Still, there's a fairly clear division in arcs between the first two seasons, which is more heavily focused on the Bajoran/Cardassian conflict, and the third season onwards, which focuses on the coming war with the Dominion. As such, for those on the fence about DS9, we suggest jumping in with season three.
Star Trek: Voyager
There's really no sense in pretending otherwise - Voyager isn't really all that good of a show, and if you're going to dive into nineties Star Trek, I'd head to TNG and DS9 first. Still, the show has its charms, and it did get better as it went along. I'd jump right to the last episode of season 3, the first half of the "Scorpion" two-parter. "Scorpion" is consistently voted the series's best episode, and it also introduces the half-human, half-Borg, all-sexy Seven of Nine, who is pretty much the one iconic thing to come out of this show. Most of the show's best episodes come in the fourth season onwards, and you get to avoid the only Star Trek episode so bad that everyone involved disowned it. (Although, depending on your mindset, that might actually be just the sort of thing you want to check out.)
Star Trek: Enterprise
When it comes to latter-day Star Trek, there's just something special about seasons 3 and 4, because that's where I'd suggest you start with for Enterprise as well. The prequel series took a while to find its feet, spinning its wheels for two seasons with a lot of not terribly interesting stuff about a new alien race called the Suliban and a far future conflict known as the Temporal Cold War. The show was retooled at the end of both the second and third season, and both were arguably improvements.
The third season ditched the Suliban as the Enterprise headed into the war-torn region of space known as the Expanse, in the hopes of either stopping the coming war...or winning it. The fourth season went with less long-form storytelling in favor of shorter, more contained arcs, which again produced a bunch of standout episodes. Although do yourself a favor - unless you absolutely love Enterprise, skip the series finale. Actually, if you absolutely love Enterprise, that's even more reason not to watch it.
Doctor Who
We're only going to talk about the new series, because a guide to getting into the classic series is an article in and of itself. (And here it is! Although I will say that "Robots of Death" is pretty much the perfect introduction to classic Who.) The best way to approach the new Doctor Who largely depends on what you want to get out of it. If you just want to get up to speed for the upcoming series, then I'd just watch the fifth season, plus "Silence in the Library"/"The Forest of the Dead" and maybe "Blink". That'll get you pretty much up to speed on the Steven Moffat & Matt Smith era.