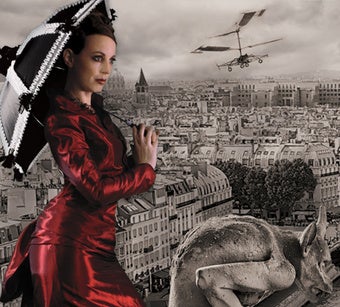 September is upon us, bringing new novels from William Gibson, Guillermo del Toro and Cherie Priest. Plus: postmodern time travel, zombie relationship tips, and the ultimate smackdown between vampires and alien invaders!
Zero History, William Gibson (Putnam)
It's finally here, you guys: William Gibson's latest, Zero History. The novel reunites several characters from Spook Country, as marketing colossus Hubertus Bigend decides to conquer the military apparel market. He ropes journalist Hollis Henry into his scheme, hiring her to track down a secretive designer. Translator Milgrim — now drug-free, courtesy of Bigend and a pricey rehab program — goes along to assist. But it's not that simple, because someone is matching every move Bigend makes. It's another novel of viral marketing from the guy who wrote Neuromancer, so get excited.
Dreadnought, Cherie Priest (Tor)
Cherie Priest returns to her steampunk Civil War universe with Dreadnought, the sequel to her Hugo-nominated Boneshaker. Widowed nurse Mercy Lynch is trying to make her way across the battle-scarred United States to see her dying father. It's a long way from Richmond to Seattle under the best of circumstances, and the only train available is pulled by the massive, unnerving Dreadnought locomotive. But when the train is beset by bandits and Confederates, it becomes clear something's afoot with Mercy's ride west, and she'll have to face down some serious trouble to make it to Washington Territory in one piece.
How to Live Safely in a Science Fictional Universe, Charles Yu (Pantheon)
Buzz about Charles Yu's debut novel has been building for a while now, and Annalee's already given How to Live Safely in a Science Fictional Universe the thumbs-up. The protagonist, a time-travel mechanic named Charles Yu, lives in the eponymous fictional universe and unsticks people from paradoxes and looks for his missing mad-scientist father. The concept is mind-bogglingly meta and the execution promises to be geekily literary/literarily geeky.