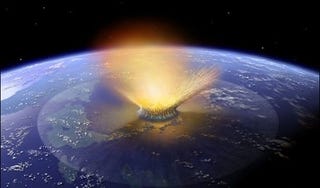 The theory that a giant asteroid impact killed the dinosaurs 65 million years ago gained acceptance when we discovered the gigantic Chicxulub crater. Now we've found the crater of another asteroid that struck Earth at almost the exact same time.
The Chicxulub crater, buried beneath Mexico's Yucatan peninsula, was recently confirmed by a panel of 41 experts as the main driver of the mass extinction event that occurred at the end of the Cretaceous Period. It measures over 110 miles in diameter, and the asteroid that created it would have been more than big enough to trigger the atmospheric and geological turmoil that started the extinction event.
Of course, this theory doesn't enjoy unanimous support. Recent research suggested it might have actually been the Deccan Traps volcanoes in India that triggered the mass extinction, and these findings were compelling enough to call together that panel of experts to review the evidence. Although they ultimately stuck with the current consensus, they left open the possibility that the Chixculub asteroid created geological disturbances that ultimately started the Deccan Traps eruptions.