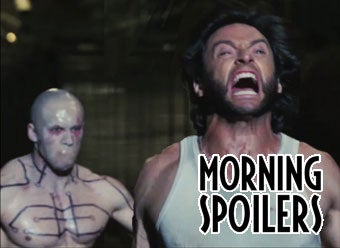 Spoiler bonanza! Captain America set photos reveal a key turning point. Super 8's mystery creature is...Elvis? RTD talks Torchwood. Cameron says Avatar 2's no Matrix Reloaded. Smallville's Supergirl suits up! Plus Fringe, Transformers, Supernatural and All You Need Is Kill.

Captain America: The First Avenger:
More set photos for the latest Marvel superhero film — and these ones are somewhat revealing. Turns out the film includes a scene on VE Day — May 8, 1945. Tons of extras in period costumes celebrating in Trafalgar Square, with loads of vintage cars, and some extras dressed as soldiers and photographers. Is this after Cap has already gotten stuck in that iceblock? Or does that happen after VE Day? I guess we'll have to wait and see. Photos by WENN.com [WENN.com]


Super 8:
Creature designer Neville Page talks about working on the creature for J.J. Abrams' mystery project. He says he watched the first trailer before it came out, with the mysterious monster banging against the side of the boxcar, and he realized he would have to design the creature that's inside that boxcar. "When that door [to the boxcar] blows open, it's the ultimate reveal. It's Elvis or something." The video at the link, in which he also talks about some of the other movies he's worked on, is worth checking out. [Wired]
All You Need Is Kill:
We reported a while back that Doug Liman (Jumper) was in talks to direct this adaptation of the Japanese reset-button-death war movie, but now it's official. Here's the plot synopsis, via Variety:
Story centers on a new recruit in a war against aliens who finds himself caught in a time loop in which he wakes up in the past after having been killed on the battlefield. As the soldier's death and resurrection repeat, his skills as a soldier grows as he attempts to change his fate.