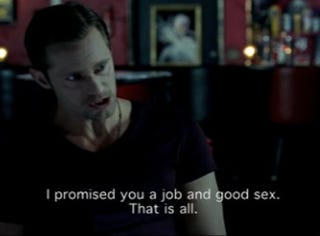 Everyone is talking about last night's big reveal. So what happened? Well the supernatural fairy was let out of the werekitty bag. We now all know what Sookie is (besides awful).
Let's be honest. Nothing was going to top last week's conclusion. Nothing. But this week tried with werekitties, V-trips, and lots of good Pam one-liners. But besides the great postmortem, this episode really felt like it was just trying to get us to the end. We're all still holding our breath for the big fight between the King of Mississippi and everyone else. But one thing was revealed, Sookie is a fairy. Yeah, I'm not necessarily excited about it either. But why don't we let the Pros and Cons be the REAL judge.
Pro: Sookie having the same reaction to her big "what is Sookie" reveal. How fucking lame, indeed.
Con: So since we all CLEARLY know that being a fairy is lame, does that mean we can drop the fact that she's a fairy? The answer: No.
Con: Another name for the fairy kind is "alien." Sadly, I'm guessing the rest of the cast will insist on calling fairies by their proper name "the Fae," for the rest of the season.
Con: They do.
Pro: Bill's wonderful explanation about fairy sex. "The Fae were known for breeding with humans, sometimes against their will. " To which Sookie immediately responds, "My people are rapists?" What a wonderful mental image. See previous top Sookie quote about lameness.
Con: Do not google "fairy rape" or "rape fairy." There is a whole world of disturbing images, and fanfic that I'm not even going to begin to get into. Here is one of those pictures. I now suspect I'm on some sort of watch site on the internet. Damn you, True Blood.
[via Techwomb. Do not go there. Seriously. Do. Not. Go. There.]
Con: Bill and Sookie are talking about that horrible pond of metaphors in the FernGully porno world.
Pro: The Fae were killed off by vampires. I assume this is because the vampires were tired of their insufferable light pond, tutu-wearing, pool parties and vacuous metaphor speech. Good riddance, I say.
Pro: Meanwhie, back at Merlotte's: Jason starts having a panic attack over killing Franklin (which happened last episode thanks to his handy wooden bullets). His mind begins to "flashback" the images of murdered vamps and Egg people. And dear old Jason starts to unravel.
It was small and hammy, but I really loved it. This is a proper response for this character. After all, he spent half of this season imagining bullet holes (coupled with terrible gun shot KER-POW noises) in random characters' skulls. Then that entire plot line quietly dropped off the face of the vampire Earth to make way for tedious office work montages. So yes, this is a good thing. I much prefer befuddled, guilt-ridden Jason to annoying "I wanna be a cop" Jason. I may have hated the bullet-head moments, but I do like it when this show allows Jason to act like a real human being. You know someone who is impacted by trauma. Jason is at his best when he fumbles with larger issues in his own doe-eyed manner.