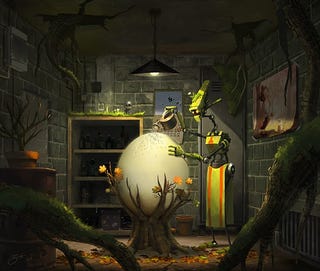 Lately you may have noticed that hard SF is starting to break the rules. Writer Jason Sanford identifies this as the emerging "SciFi Strange" subgenre, and he's curated a list of free stories online that make SF a lot stranger.
Sanford says SciFi Strange reflects a multicultural world where tradition co-exists with multiple, minority perspectives on reality. He continues:
SciFi Strange also flirts with the boundaries of what is scientifically—and therefore realistically—possible, without being bounded by the rigid frames of the world as we know it today. But don't call SciFi Strange fantasy. This is pure science fiction. It's merely an updated version of the literature of ideas. A science fiction for a world where the frontiers of scientific possibility are almost philosophical in nature.
I was intrigued by his idea, partly because I was just re-reading the comments that people made on Genevieve Valentine's story, "The Zeppelin Conductors' Society Annual Gentlemen's Ball," that we posted about a few weeks ago. It's a brilliant story, which most people praised, but commenters kept complaining about how Valentine represented helium poisoning incorrectly. Then a whole debate broke out about whether it's OK to take poetic license with science or not. And I think Sanford's definition of SciFi Strange helps end this debate by situating Valentine's work in a sub-tradition where people bend the rules of science in order to create a mood, or convey ideas that don't fit into reality as we know it.