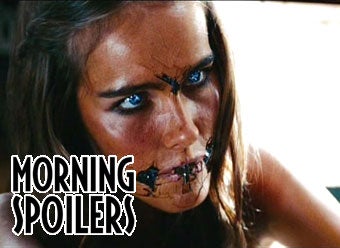 Before starting The Avengers, Joss Whedon made sure the script for Captain America made sense. Torchwood unveils the new miniseries and new character. Guillermo del Toro gives his last, bittersweet update on Hellboy III. Spoilers for miles around!

Captain America:
Joss Whedon discussed his involvement as a script doctor on this upcoming Marvel film. He praised the tight structure of the screenplay, and said he primarily worked to make clearer connections between characters. As he explains:
There were a couple of opportunities to find his voice a little bit - and some of the other characters - and make the connections so that you understood exactly why he wanted to be who he wanted to be.
[Earth's Mightiest; thanks to Ed Gross for the tip!]
Transformers 3:
I've got yet another batch of Chicago set photos to share. After all this filming, the movie itself must be at least three weeks long. Anyway, at least there's some interesting news to come out of this latest collection - Shia LaBeouf seems to be wielding some sort of "power glove" on his hand, which means that maybe he'll actually do some fighting in this one. [Pixel Rally and Colin Hinkle via TFLAMB]

Hellboy 3:
For a whole bunch of reasons, Guillermo del Toro says he most likely will leave the series unfinished. There's the fact that neither of the first two movies made much money, which means studios aren't that interested. Then there's del Toro's belief that the series needs to end with Hellboy's death in the third film, and comics creator Mike Mignola doesn't want to sign off on his character being killed off in the movies before he's ready to do it in the comics. Throw in the fact that Ron Pearlman is busy doing Sons of Anarchy - which, as del Toro points out, is spoiling him by letting him be a leading man without wearing three tons of makeup - and del Toro is pretty sure the film won't happen, much as he might like it to in a perfect world. [MTV]
Real Steel:
Hugh Jackman's robot boxing movie has reportedly added Karl Yune to its cast as Tak Mashido, "a robot boxer designer." Yune has previously appeared in Speed Racer and Memoirs of a Geisha. [Variety]
World War Z:
In case you missed yesterday's leaked email from a Paramount executive, here's the sci-fi related news. According to the email, Brad Pitt is still attached to star and Marc Forster to direct this long, long simmering project, and apparently the studio "loves" the new screenplay draft by Matt Carnahan. So perhaps there's finally forward movement here. [The Wrap]