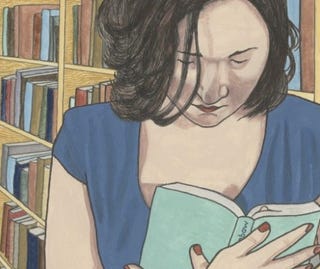 Fall is a big season for the books, and the next few months will be bringing you literary treats you only dreamed of. There's new work from William Gibson, Connie Willis, Iain M. Banks, Cherie Priest, and more!
August
Aug. 17
John Birmingham, After America (Del Rey)
Australian author Birmingham gives us the second action-packed installment in his alternate history series where a mysterious energy weapon wipes out most of the US in 2003, and a government run by a Seattle engineer tries to rebuild the nation. Interesting geopolitics, incredible action, and pirate battles make this a perfect end-of-summer read.
Aug. 24
Suzanne Collins, Mockingjay (Scholastic)
The last book in the Hunger Games trilogy, this novel has already gotten glowing reviews. The LA Times sums up the plot:
"Mockingjay" leaves the government's kid-on-kid hunting grounds and heads into the destitute reality of the districts, which have come under heavy fire from the Capitol for rising up against its superficial and oppressive leadership.
If you've been waiting for all the books to be published before starting this post-apocalyptic trilogy about a game show where kids fight to the death on TV - well, now's the time.
Aug. 31
Gail Carriger, Blameless (Orbit)
The third in Carriger's beloved Parasol Protectorate series, this installment finds heroine Alexia fleeing London after an attack from mechanical ladybugs. Chased by vampires, she travels to Italy seeking information from the Templars. But they're more dangerous than she thought, and apparently they're armed with pesto.
Sherri S. Tepper, The Waters Rising (Eos)
Award-winning author Tepper brings us a fable from the environmental apocalypse. From Publishers Weekly:
The Earth of this futuristic fable is still scarred by the "Big Kill," the disastrous crescendo of our civilization that all but obliterated terrestrial life. Now a new threat has appeared in the form of rising sea levels, a process that appears unbounded by such petty concerns as a plausible source for all that water. Xulai, initially an unimportant and expendable young girl, encounters a specter from the days of Big Kill, an entity bent on preventing Xulai from realizing her potential role in the salvation of humanity.
Ann Aguirre, Killbox (Ace)
More adventures await you as Sirantha Jax fights and romances her way through space. You know you want to read it.
Darin Bradley, Noise (Spectra)
I was filled with intense desire for this book the moment I read the plot description, which includes everything from D&D campaigners to analog television hackers. Here's what awaits you:
In the aftermath of the switch from analog to digital TV, an anarchic movement known as Salvage hijacks the unused airwaves. Mixed in with the static's random noise are dire warnings of the imminent economic, political, and social collapse of civilization-and cold-blooded lessons on how to survive the fall and prosper in the harsh new order that will inevitably arise from the ashes of the old. Hiram and Levi are two young men, former Scouts and veterans of countless Dungeons & Dragons campaigns. Now, on the blood-drenched battlefields of university campuses, shopping malls, and gated communities, they will find themselves taking on new identities and new moralities as they lead a ragtag band of hackers and misfits to an all-but-mythical place called Amaranth, where a fragile future waits to be born.
Jay Lake, The Sky That Wraps (Subterranean)
A collection of 25 of Lake's most recent short stories.
September
Sept. 1
Audrey Niffenegger, The Night Bookmobile (Abrams)
In this richly-illustrated story, Niffenegger (The Time Traveler's Wife) tells the story of a woman who discovers a mysterious bookmobile that contains every book she's ever read.
Karen Joy Fowler, What I Didn't See And Other Stories (Small Beer Press)
Fowler is probably best known for her novel The Jane Austen Book Club, but she's also a fiercely brilliant science fiction writer who has won several awards for her speculative short stories. This beautifully-written collection of stories will bend your mind in wild new directions.
Sept. 7

William Gibson, Zero History (Putnam)
The final book in his loosely-connected series that began with Pattern Recognition, Gibson's Zero History is a brain-melting, eccentric thriller about avant-garde advertising and fashion espionage. Hollis, the main character from Spook Country, is back to do more cultural investigation for Bigend - and of course, she's going to get more than she bargained for when she signed up to figure out the "secret label" behind the coolest denim jackets and jeans you've ever seen in your life.
Charles Yu, How To Live Safely In A Science Fictional Universe (Pantheon)
We've already given Yu's debut novel about a minor fictional universe owned by Time Warner Time a stellar review here. This is how I summed it up: