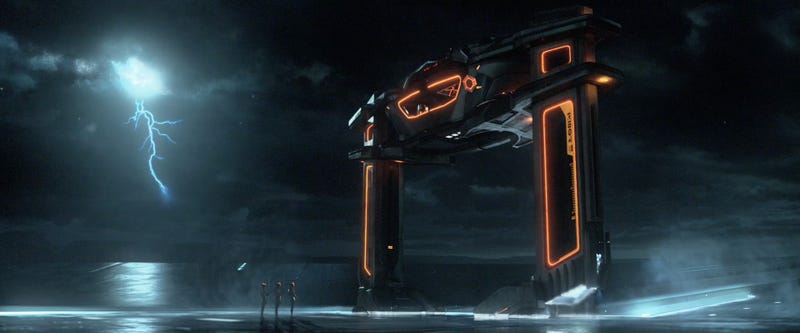 It's been a mostly underwhelming movie summer. But fear not, moviegoers! There are still 10 movies left in 2010 that look set to rock your worlds, including Monsters, Skyline and Tron. And there are 10 more that, well...could surprise us.
Here's our guide to the remaining films of 2010, in chronological order: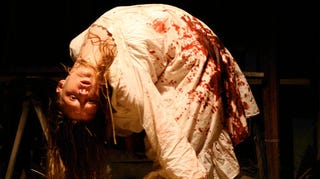 The Last Exorcism (August 27):
We've already seen this film, so we have no scruples about saying it rocks our world. In a nutshell, it's about a slick preacher from Baton Rouge, LA, who no longer really believes in the "exorcisms" and other theatrics that he's been doing since he was a little kid. He brings a film crew along to do one. last. exorcism, to prove it's all hooey. But... since this is a horror film, you already have a sense where this is going. The good news is, The Last Exorcism will surprise you, both with its vivid, complex characters and with its suspenseful plot. It's far from being the Paranormal Activity rip-off you'd expect it to be.
Prognosis: It does rule.

Resident Evil: Afterlife (September 10):
We saw big chunks of this film at Wondercon and San Diego Comic Con, and it looks like a hella fun ride, featuring more versions of Alice (Milla Jovovich) than you can shake a stick at, plus a crazy action sequence involving an elevator shaft. It probably won't be terribly thought-provoking, or Bergmanesque, or whatever, but we're pretty sure this will be a pulling-out-all-the-stops fun actioner, with Jovovich and Ali Larter getting to kill tons of zombies and battle the evil Umbrella Corp. Plus it was actually shot in 3-D, rather than being post-processed, so it should look pretty great.
Prognosis: It should rule.
Never Let Me Go (Sept. 15):
The film adaptation of Kazuo Ishiguro's classic literary novel, with a science fiction twist that we're loathe to give away. A group of teenagers grow up in isolation, but they appear destined for a dire fate — and only falling in love can forestall their doom for a little while. The trailer is absolutely gripping and heartbreaking, so we've got high hopes for this one.
Prognosis: It should rule.

Devil (September 17):
This is the "strangers trapped in an elevator with the Devil" movie that has been irreparably damaged by having M. Night Shyamalan's name so prominently on the trailer. It's actually directed by the Dowdle Bros., best known until now for directing Quarantine, the U.S. remake of [Rec]. If you can see past the Shyamalan name and the goofy premise, then... uh... well, you're a better person, I guess. As for me, I'm still giggling at the commenter over at EW who predicted that the big twist in this film will be that the Earth itself is the Devil, and "the elevator is one of its balls."
Prognosis: Maybe it'll surprise us.

Legend of the Guardians (September 24):
Director Zack "Watchmen, 300" Snyder takes a total change of pace with this animated owl movie, based on the popular kids' book series, Guardians of Ga'Hoole. The visual effects, by Happy Feet makers Animal Logic, looks utterly gorgeous, and the film seems like a throwaway piece of cuteness. I've seen the trailer a few hundred times, because it's shown before every other kids' movie, and yet it remains a bit forgettable.
Prognosis: Maybe it'll surprise us.

Let Me In (October 1):
We were among the biggest doubters of this U.S. remake of the Swedish classic Let The Right One In. The risk of having a dumbed-down version of the ambiguous, creepy original seemed too great. But after seeing a ton of footage at Comic Con and interviewing director Matthew Reeves, we've been converted into boosters. The acting from Kick-Ass' Chloe Moretz and the moody, atmospheric direction are working for us, and we're excited to hear that Reeves is looking to the original novel for inspiration, as well as the Swedish movie adaptation. If this lives up to our expectations, it could be one of the year's great movies.
Prognosis: It should rule.