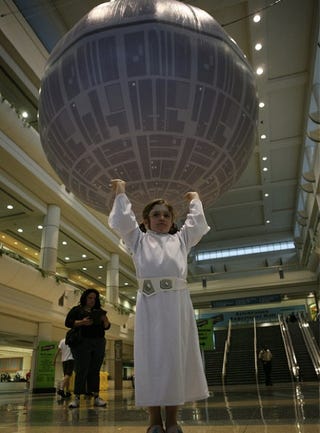 Last weekend, Orlando was filled with wampas, Ewoks, Jedi Knights, droids and Rancors, for the Star Wars Celebration V. Jon Stewart went toe-to-toe with George Lucas on stage, deleted scenes were revealed, and R2D2 got married. Here are the highlights.

Jon Stewart interviews George Lucas
The Main Event! Jon Stewart sat down with Star Wars creator George Lucas, and while we break out the two most galaxy-shattering announcements below, the entire interview was so amazing, it deserves to be watched in its entirety. So we've collected it from the internet, and posted it below. Enjoy.
Star Wars is coming to Blu-Ray in 2011
The first big announcement came via Lucas himself, during the Stewart interview. The Blu-Ray box set is finally happening, rejoice. But it's only the upgraded version. Poodoo.