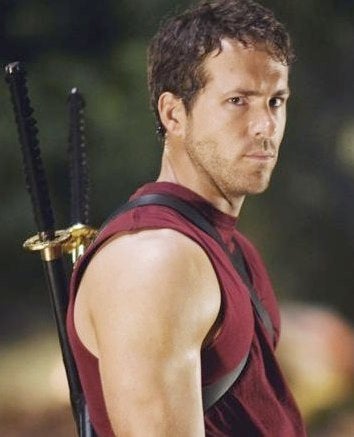 Warner Brothers is already developing the Green Lantern 2 screenplay, long before GL1 is even finished. Pair that with rumors that Green Lantern will be a trilogy shot back-to-back, and where does that leave Ryan Reynolds' other superhero movie: Deadpool?
There's a lot of speculation running rampant about the Deadpool film this week, especially after Warner Bros. announced that they are speeding up plans for a Green Lantern sequel. Geoff Johns dropped massive hints at Comic Con that the Green Lantern franchise could be a trilogy, and now the WB is writing a sequel for a film that hasn't even finished editing. So what does that mean for Deadpool? Can Ryan Reynolds even spare time to play the Merc with a Mouth, if he still has to shoot two more Green Lantern films, especially at this grueling pace?
Last we heard Robert Rodriguez was being courted to direct the Deadpool movie, written by Zombieland duo Paul Wernick and Rhett Reese. Ryan Reynolds even said that he talked to Wernick and Reese daily about the Deadpool project, so clearly his heart is in it.