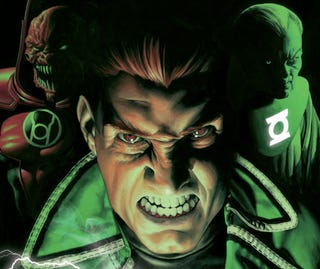 What's on the stands this Wednesday? The strongarm police tactics of everyone's favorite mushroom-coiffed space cop, urban fantasy starring a man-boy wizard, and a new installment of Joe Hill's acclaimed supernatural thriller Locke & Key.
First, let's look at some notable issues that will soon be in the hands of your local comic purveyor...
Locke & Key: Keys To The Kingdom 1 (IDW): A new installment of Joe Hill (a.k.a. Stephen King's son) and Gabriel Rodriguez's Eisner-nominated comic series begins here — protagonist Bode Locke discovers a new supernatural key and hundreds of dead birds. There's also a teaser first issue of Locke & Key: Welcome to Lovecraft on sale for $1 and the Locke and Key: Crown of Shadows hardcover.
Morning Glories 1 (Image): A new series from Nick Spencer and illustrator Joe Eisma about a mysterious prep school and its troubled students; the creators describe it as Runaways meets Lost.
Dungeons and Dragons 0 (IDW): Here's a price-is-right introductory issue to IDW's D&D series, which is set to debut in November. I hope my $1 gets me a whole lot of Beholder and ochre jellies. You can read our preview of it here.