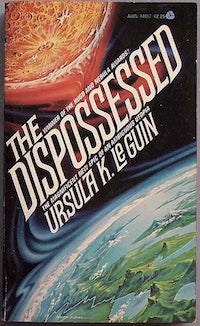 After a short break, "Blogging the Hugos" is back with 1975 Hugo winner The Dispossessed, by Ursula K. Le Guin. I thought it was right in so many ways — so what went wrong?
For about three weeks now, I've been trying to figure out what to say about The Dispossessed.* I don't know that a book has ever driven me quite this crazy, because while I like a lot of things about it, I'm gradually coming to terms with the fact that I don't think I like it.
It's kind of confounding. So let me start with the plot, and then we can move on from there.
OK, so The Dispossessed (by the way, it also won the Nebula and Locus awards) is about two planets in the Tau Ceti system that orbit each other as they revolve around the star, so that they serve as each other's moon. One planet, Urras, is Earth-like — mostly covered in water and rich in life and material wealth. A couple of superpowers, A-Io and Thu, dominate the global political scene.
The other, Anarres, is largely desert — habitable, but only with a lot of effort. Anarres was settled about 160 years before the start of the book by political dissidents from Urras, anarchist followers of the philosopher Odo. The Anarresti have had only the most minimal contact with Urras since they founded their new society: A few people on the two worlds communicate occasionally by radio, and eight times a year, a space freighter transports essential goods from Urras and takes back valuable minerals from Anarres in exchange. Among the collectivist Anarresti, who share all material goods, there's enormous resentment of the "propertarian" Urrasti, in part because of the unspoken truth that it's only thanks to the trade with Urras that life on Anarres can go on. Because of this hostility, no Anarresti has ever returned to the home world.
That is changing as the novel opens. An Anarresti physicist named Shevek — perhaps the planet's most brilliant scientist, who has even won the equivalent of a Nobel Prize on Urras after one of his papers was sent there for publication — is boarding a freighter, in the hope of brokering some sort of better understanding between the two worlds. The first chapter describes Shevek's journey, and then the second flashes back to his early childhood; the rest of the book continues that way, alternating with each chapter between the story of his present on Urras and his past on Anarres.
That sort of bifurcated unity is central to The Dispossessed thematically. The novel is steeped in the Taoist motifs that feature in much of Le Guin's fiction — among other things, you've got Urras and Anarres acting as yin and yang to each other; and then there's the primary research challenge Shevek is facing: the reconciliation of linear, Newtonian "Sequency" physics with the more Einsteinian "Simultaneity" physics to yield a grand unified theory. (The result of his work is an invention that changes the course of Le Guin's Hainish Cycle universe, and that has since been embedded in the genre itself.)
Now, not that I'm an expert in it, but I do like Taoism. The idea at its root, that apparently opposing forces are actually portions of a united whole — that seems to me to be a basic truth. So does the notion that each thing carries inside itself the seed of its opposite — there's nothing that is pure or perfect; everything has some black and some white to it.
In keeping with that, Le Guin portrays both Urrasti and Anarresti society as flawed. As her fellow SF author Samuel R. Delany points out in this fascinating discussion with a group of university students from 1986, her subtitle for The Dispossessed, "An Ambiguous Utopia," seems to point to both the fact that either world might be considered a utopia by its inhabitants, and to the aspects of each that render it highly questionable whether either is a utopia at all. Urras — specifically, the capitalist A-Io, where most of the action takes place — is rich, but chauvinist and racist and plagued by war, its wealth built on the backs of its third-world people. Anarres is harsh in environment, but its lack of comfort leaves its people more free to grow emotionally and makes mass violence nearly impossible.
Shevek makes for a good lens to view both worlds through. He's a fish out of water on Urras who serves to highlight, Valentine Michael Smith style, the irrationality of some of the Urrasti's most strongly held beliefs (and by inference, some of our own society's beliefs, although it should be noted that while Urras serves as something of an Earth analogue, it's not one, exactly; in the novel, Earth is its own world, and Terrans play their own role in the plot). And he's also a bit of an outsider on Anarres — a genius whose passion for his work is constrained by the Odonian mores of his culture. (Among the followers of Odo, "egoizing" — any placement of the individual self's desires above those of the group — is the most egregious of offenses.)