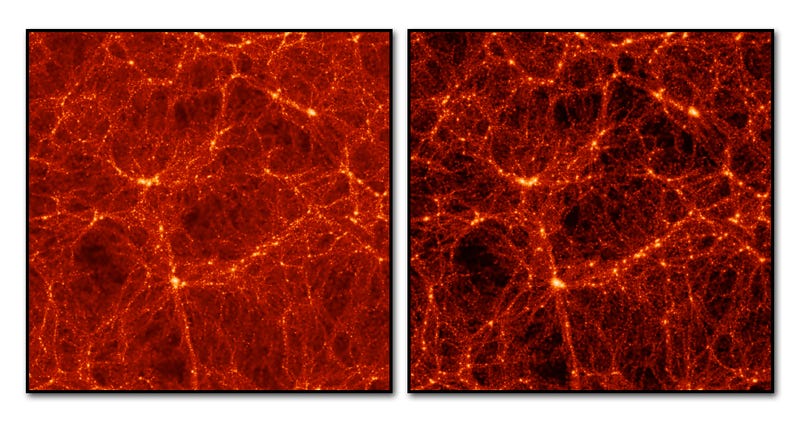 In this week's "Ask a Physicist," I get defensive about dark energy. It dominates the universe; it's completely absurd; and it's apparently absolutely necessary.
I've been putting off talking about dark energy for a while. I was afraid that you'd judge me, and all cosmologists, as being charlatans. But I can't put it off any longer, so for this week's "Ask a Physicist" our (metaphorical) shame will be revealed by Donovan, who asks:
I've never seen someone try to explain dark energy as anything other than a feature of our universe. Instead of explaining dark energy as a mysterious force inside of our universe that is pushing out and inflating us, has anyone ever tried to explain it by postulating some kind of "vacuum" outside of the universe that is "pulling" us out?
You see? This is why I'm so defensive. The idea of dark energy is so ridiculous that almost every question is based on trying to make it go away. And believe me, I share your concerns. I don't want to believe in dark energy, but I have no choice.
When I was a student in the mid 1990's, cosmologists thought we had it all figured out. Dark matter had been known (or at least suspected) since the 1920's, and most respectable physicists simply assumed that the universe was made up of a combination of ordinary and dark matter. Since gravity is attractive, this should presumably act to pull the universe together.
At the same time, several groups were observing distant supernova explosions. Supernovas (Type Ia's, if you must be precise) are really useful probes of the universe because a) they are very bright, which means that you can see them from very far away, and b) they are "standard candles" which means that if you understand them well enough, you can figure out exactly how bright they really are, and from that, you can determine their distance. As I discussed previously, we can measure the redshifts of the supernovas to tell how much the universe has expanded since they blew up. From the combination of expanding universe and distance — voila! We can determine how quickly the universe is slowing down.