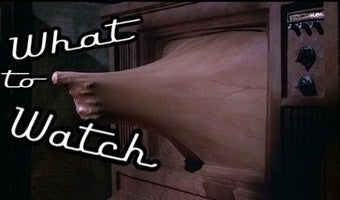 This week, television gives you Shark Week, plus the debut of Stan Lee's documentary on real-life mutants. Warehouse 13's Claudia and Eureka's Fargo hook up twice! Superman fights a frost giant! Plus an animal uprising, True Blood and Futurama!

Today:
It's Shark Week! The week when instead of television jumping the shark, the shark jumps over television! To celebrate, the Discovery Channel is showing the Shark Attack Survival Guide at 9 PM, followed by Day Of The Shark 3 at 10 PM. And that's definitely our pick of the day.
It's not quite as deadly as a shark, perhaps, but this week's Fish Warrior on the National Geographic Channel focuses on a "Colossal Catfish." That's at 9 PM.
But before either of those things, there's a new Scooby Doo: Mystery Inc., called "Revenge Of The Man Crab," on the Cartoon Network at 7 PM. Did you know that Velma and Shaggy are dating? And Velma is pressuring Shaggy to get more intimate? That's what Wikipedia says, anyway. This clip of the Man Crab in action is pretty great stuff:


That's followed on the Cartoon Network by a new Johnny Test at 7:30 PM and a new Adventure Time With Finn and Jake at 8 PM.
There's also the season finale of James May's Toy Stories at 10 PM on BBC America — It's called "Model Airplane."
Movies:
FX has I, Robot at 5:30 PM, followed by Ghost Rider at 8 PM. Feel the drama! And if you can stay up late enough, TCM has Demon Seed with Julie Christie at 1 AM tonight. And then at 1:40 AM, Encore has Blindness. And if you stay up really late, Encore has On Her Majesty's Secret Service, among the most way-out of the James Bond films, at 5:30 AM.