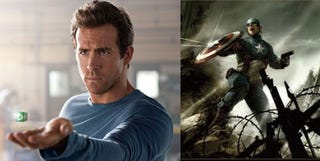 Everybody says San Diego Comic Con can make or break a project, and we saw it happening first-hand at SDCC 2010. Here's our list of the projects that gained supercharged buzz at SDCC... plus a few that lost some buzz.
Just to clarify, this isn't a list of stuff we personally liked at Comic Con. It's more stuff that we felt got some more positive buzz or generated a new level of excitement at the con — or won over the naysayers. And in the handful of "losers" listed at the bottom, it's stuff that we got the sense people were disappointed by. Since Comic Con is all about buzz, this is our attempt to gauge the buzz that stuff was getting at the Con.
And you'll notice that Tron Legacy isn't on the list — in its third year at SDCC, Tron Legacy maintained the high level of buzz it already had among the SDCC crowd. There's a big difference between "buzz maintenance" and generating new buzz. Ditto for a lot of other Comic Con favorites that continued to be Comic Con favorites, but didn't really gain or lose new buzz.
So with that said, here goes, in no particular order:
The buzz winners of SDCC 2010:


The Avengers (including Captain America and Thor)
The big moment of Comic Con, for a lot of people, was seeing the entire Avengers cast on stage together. It's not as if there was no buzz for the Avengers before Comic Con — as with the Captain America and Thor movies, fan excitement was already pretty high for this project. But Marvel managed to meet people's expectations — and silence all of the Thor naysayers with some impressive early footage. We were all hoping they would get all the Avengers on stage together, along with director Joss Whedon, and they did. But we weren't prepared for how thrilling a sight it was. It's not just that everyone was excited about the Avengers — it was the hope that the Captain America and Thor movies could both hold up to those characters' mighty legacies, and then the Avengers movie really could pay it all off, with the biggest story yet.

Battle: Los Angeles
This is one of those projects that almost nobody had heard off before Comic Con, and the very consciously Black Hawk Down-inspired footage seemed to get everybody pumped up about it. In a year that saw a slew of alien invasion projects, including Skyline, this felt like one of the freshest, most interesting takes on the genre. And the obvious enthusiasm for the project on the part of Harvey Dent himself, Aaron Eckhart, was pretty contagious. It came across as good action-movie candy, and people seemed to be hungry for more.

Green Lantern
Abin Sur's corpse, on the exhibition floor, was this year's version of the Owl Ship from Watchmen from a couple years back: It was the thing everybody had to go stare at. The first footage from the film was pretty brief, but as soon as people saw the big green fist smacking crooks around, everyone remembered what ginormous Green Lantern fans we had all been at one point or another. The clincher was how much Ryan Reynolds seemed to be pouring his heart and soul into being Hal Jordan, without his trademark snark. That moment where he recited The Oath for that little kid? Was all anyone was buzzing about, because you could tell it was sincere.