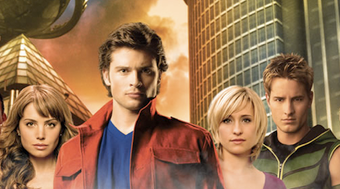 At the last Smallville Comic-Con panel, the cast confirmed who would be Clark's antagonist this year, what new DC characters would cameo, and whether Clark would finally fly up, up, and away. Afterward, we interviewed the show's actors and writers.
Here were the biggest spoilers from the Smallville panel:
- The spoiler footage showed Lois looking at the iconic red-and-blue suit (UPDATE 7/26: That said "Clark" before. Apologies. Brain fried from Comic-Con.)
- Lois saying the word "Superman."
- Blue Beetle and Booster Gold will guest star. Geoff Johns will be penning the episode. This could very well be that Blue Beetle footage that had been circulating a while back.
- Members of the Suicide Squad will also appear.
- Chloe will make an appearance in the comic books soon.
- We catch a glimpse of what is probably Darkseid hooked up in a tank. He's pale, humanoid, and withered.
- Lois is in a desert, and we see fleeting images of Hawkman.
- Tess Mercer is alive, but half of her face is scarred. She wakes up in a lab filled with bodies in tanks (à la Darkseid). A creepy little kid points out to Tess that these are his "brothers."
- Footage of Chloe holding Dr. Fate's helmet.
- A final scene of Clark flying and lifting the Daily Planet globe, which is falling down to the streets below.