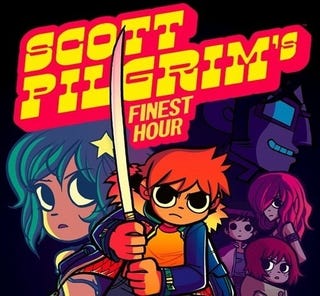 Scott Pilgrim's Finest Hour is on sale today! Will Scott find Ramona? What's Gideon Graves' master scheme? Will Sex Bob-omb stop sucking? All this and Alan Moore's long-awaited H.P. Lovecraft comic, Neonomicon.
First off, the big news this week is the conclusion of Bryan Lee O'Malley's Scott Pilgrim series. When we last saw Toronto's most lovelorn slacker, Scott had received a genial death threat from Ramona's final ex, the enigmatic Gideon Graves. Also, where did Ramona go, and why does her head emit a bizarre halo of light? This is MY PICK OF THE WEEK, PART 1. Although we're sad to see the series wrap up, we're heartened by the prospect of a few more zingers from a drunk Wallace Wells.
What other titles are out this week?
True Blood 1 (IDW): Alan Ball co-penned this miniseries about Sookie and the gang. Will Eric be just as dreamy as a cartoon?