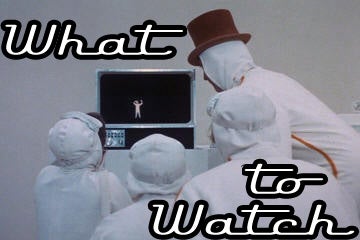 Here's your chance to get in on the ground floor of mocking a uniquely hideous TV movie, before your friends discover it. Jennifer's Body premieres on cable. A ground-breaking miniseries explores our energy future. Plus Doctor Who, Futurama and Eureka!

Today:
It's pretty hard to find anything awesome on television today, unfortunately. So our pick of the day is either to go check out this Netflix thing I hear the kids are excited about, or watch a marathon of Morgan Freeman's Through The Wormhole, the Science Channel's hit program. It's airing pretty much all evening. Freeman is exploring black holes, figuring out whether the complexity of the universe means there has to be a creator, and figuring out whether time travel is possible. Here's part of one episode:

Nicholas Cage is on Letterman, promoting The Sorcerer's Apprentice.
Movies: If Morgan Freeman doesn't do it for you, and you can't figure out how to get that Netflix thing to work, there's always Aliens Vs. Predator: Requiem, on FX at 6 PM. No, really. Netflix isn't that complicated.
Tuesday:
Today's pick of the day, once again, has to be Warehouse 13, airing a new episode on Syfy at 9 PM. In "Mild-Mannered," our heroes confront the aftermath of the shattering events of the season opener, and Artie deals with his feelings over the fate of McPherson. Oh — and Jewel Staite and Sean Maher are together again, at last! Check out a teaser:

Nic Cage continues his tour of talk shows, appearing on Jimmy Fallon to promote The Sorcerer's Apprentice.
Movies: TeleFutura is showing Daredevil in Spanish at 8 PM. Find out whether Ben Affleck gets better when he's dubbed. For you English-only speakers, though, there's the choice of Hellboy II on Cinemax at 6:15, Spider-Man on HBO, and A Boy And His Dog on TMC. (If it helps, I don't think A Boy And His Dog gets broadcast that often, and it really is a sick, twisted film.)
Wednesday:
It's Bastille Day! Which is why our pick of the day can be none other than the premiere episode of Chasing Mummies on the History Channel. What? Mummies are French, sort of. Okay, fine, they're not French. But it's still worth checking out. Here's the description:
Legendary Egyptologist Dr. Zahi Hawass leads a team of archaeologists and a documentary crew on a on a wild mummy chase across Egypt.
It's premiering at 10 PM, and such is the awesomeness of this mummy quest, they're repeating it immediately afterwards. Check out a sneak peek, featuring an Egyptologist who has a habit of freaking out at people:

And Mythbusters is showing another one of their enhanced, recut versions of a classic episode, "Buster's Cut," at 9 PM on Discovery. These usually include never-before-seen footage and behind-the-scenes details, so they're worth checking out.
Joseph Gordon-Levitt will be on Letterman, talking up his new movie Inception. And Laurie Anderson will be there too! Remember Laurie Anderson? I may have to watch Letterman for the first time in years. Also, Alfred Molina from The Sorcerer's Apprentice is on the Late Late Show with Craig Ferguson.
Movies: Encore is showing The Fly II, starring Eric Stoltz, at 1:15 PM. Do you remember this sequel? Us neither. Cinemax has Men In Black II at 9:35 AM, Gothika at 1:15, and Babylon A.D. at 5 PM.
Thursday:
It's awfully tempting to pimp the fact that there's a new episode of The OCD Project on VH1 at 10 PM. But nah.
Surely today's pick of the day must, once again, be the fact that there's a new Futurama. We're so lucky to have this show back. And this time around, in "The Duh Vinci Code," we discover a previously unknown Da Vinci invention. Somehow this involves a lot of nudity, as you can see from some storyboards that were revealed back in May:

Ellen Page is on Jay Leno, promoting Inception. And Nic Cage is on the Late Late Show With Craig Ferguson.
Movies: AMC has Star Trek: First Contact at 11:30 AM, in case you want to relive the one time the TNG crew were awesome on the big screen. Syfy has a block of monster movies all day long, including Dinocroc at 10, Sea Snakes at noon and Snakehead Terror at 2. And Cinemax has Journey To The Center Of The Earth (the Brendan Fraser version) at 8:30 PM.
Friday:
Could The Jensen Project be the worst TV movie of the year? All signs are looking promising. That's why it's our pick of the day. (But beware: in some areas, it may be pre-empted by live baseball.) It also features the return to science fiction television (as an actor) of LeVar Burton.
According to a press release,
The Jensen Project is based on a secret community of geniuses conducting underground research to help solve some of the world's most difficult problems. This thrilling science-fiction family movie tells the story of Claire and Matt Thompson, two former scientists who return to The Jensen Project after a 16-year absence. Together, with their tech-savvy son Brody, the family is thrust into a frantic pursuit to keep a potentially-dangerous technology from falling into the wrong hands. As the family races to stop the group's rogue faction, they rediscover the importance of honesty, courage and being there for one another.
A blistering review at the TV Wasteland warns against watching The Jensen Project — saying the script felt as though it were scribbled on a notepad by "desperate, sweaty hands" — but it looks like it may be one of those "so horrible it's hilarious" TV movies that only come along once in a great while.
Here's a trailer. Be warned, though. Just watching two minutes of this stilted acting, punctuated with corporate logos, is enough to boil your brain like a lobster:

If you want to check out that other community of geniuses trying to save the human race, there's the second episode of Eureka's fourth season, on Syfy at 9 PM. In the wake of the season opener, it's "A New World" for our heroes, and the ramifications are going to take some getting used to. And then at 10 PM on Syfy, there's the second episode of the Stephen King adaptation Haven, "Butterfly."
Movies: FX has Deep Rising at 10 AM. Syfy starts off your day with Arachnid at 8:30, Screamers: The Hunting at 10:30, and Arachnophobia at 12:30.
Saturday:
The pick of the day has to be Powering The Future, the Discovery Channel's new miniseries about the challenge of coming up with a clean, renewable power source for our civilization. According to the Discovery Channel:
From economics and climate change to national security and global politics, energy is the driving force behind most everything on the planet. POWERING THE FUTURE puts energy on the national stage, addressing the challenge from every angle and cutting through the noise by establishing a target: identifying a clean, limitless, secure energy supply and addressing how it could possibly be delivered. Producers traveled to more than 30 different locations around the world-from an offshore oil platform in the Gulf of Mexico to the oil sands of Canada, from Washington, D.C., to Beijing, China-to meet with the people at the heart of the issue.
The first two episodes air Saturday from 8 to 10 PM. The first hour deals with the beginnings of our energy transformation and the idea that we're on the verge of a second Industrial Revolution as we reinvent our energy policy. And the second hour shows how all of our energy sources, including fossil fuels, come from the natural world.
But there's also another strong contender: Doctor Who's "The Pandorica Opens," the first half of the two-part season finale. Discover the truth behind the mythological Pandorica, and the reason for those cracks in the universe. Not to mention, witness a tearful reunion that will catch you by surprise, no matter what you're expecting. Here's a clip:

Movies: Saturday night sees the world premiere of the sadly unsuccessful horror film Jennifer's Body, on Ciemax at 10 PM. The studio saw fit to market this film as a sexy exploitation film for teen boys, instead of representing it honestly as a movie about the horrors of female friendship. As we wrote in our review of the film when it was in theaters: