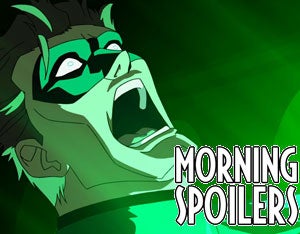 New plot details for Simon Pegg's alien comedy Paul! Doctor Who's Christmas episode adds some stars! Christopher Nolan discusses Inception's philosophical and cinematic undertones. Set-pics reveal more about Transformers 3. X-Men prequel casting becomes official! Will Edward Norton join Avengers?

Inception:
Christopher Nolan says the film is very much his attempt to do a James Bond film, and the film's heist and action elements take inspiration from his favorite Bond films. Speaking of which, if MGM can ever sort out what the hell they're doing with that franchise, he'd love to direct a Bond movie himself. [/Film]
When asked about the movie's central ideas, Ellen Page got a little philosophical (although in a charming, non-pretentious sort of way):
Q: It seems to me the film's core is the notion that thoughts can transform and even destroy you.

A: And they can perpetuate our personal suffering. And the elusiveness of all love. Sure, shooting this movie made me think more about my dreams. But what "Inception" made me think of more, especially because of books I was reading at the time, is my awake world and the elusiveness of all life. My own, individual perspective and the thoughts I'm creating for myself. Definitely a bit of an existential-crisis-esque time, but I'm in my early 20s, so ... (laughs)
[SFGate]
Transformers 3:
Here are a bunch of set photos from the first day of filming in Chicago, including two of Tyrese Gibson in his new NEST uniform: [TFLAMB]


And here's a set video: [Screen Rant]
Finally, producer Lorenzo di Bonaventura says that he expects this to be the last movie in the franchise. Even if Paramount and Hasbro decide they want to do a Transformers 4, it almost certainly won't involve him or Michael Bay. But how could they possibly make a Transformers movie without the franchise's tender artistic soul!? [IGN]
Avatar 2:
Although Sam Worthington knows what's going on with Clash of the Titans 2 - it shoots next year in 3D and he's set to return as Perseus - he can't say much about his other blockbuster sequel. He's definitely returning, but he says nothing is happening right now because James Cameron is busy with other things and hasn't started writing it yet. [CinemaBlend]
Paul:
The sci-fi comedy starring Simon Pegg, Nick Frost, and Seth Rogen as an alien has an official synopsis:
Simon Pegg and Nick Frost (Hot Fuzz, Shaun of the Dead) reunite for the comedy adventure Paul as two sci-fi geeks whose pilgrimage takes them to America's UFO heartland. While there, they accidentally meet an alien who brings them on an insane road trip that alters their universe forever.
For the past 60 years, an alien named Paul (voiced by Seth Rogen) has been hanging out at a top-secret military base. For reasons unknown, the space-travelling smart ass decides to escape the compound and hop on the first vehicle out of town-a rented RV containing Earthlings Graeme Willy (Pegg) and Clive Collings (Frost).
Chased by federal agents and the fanatical father of a young woman that they accidentally kidnap, Graeme and Clive hatch a fumbling escape plan to return Paul to his mother ship. And as two nerds struggle to help, one little green man might just take his fellow outcasts from misfits to intergalactic heroes.
Paul is directed by Superbad's Greg Mottola, from a story by Pegg & Frost. Joining the comedy's cast are Jason Bateman, Kristen Wiig, Bill Hader, Blythe Danner, Joe Lo Truglio, John Carroll Lynch, David Koechner and Sigourney Weaver.
X-Men - First Class:
This took a while to become official, but now Nicholas Hoult is definitely taking over as Beast and Caleb Landry Jones is definitely playing Banshee. It sounds as though Lucas Till is this close to officially playing Havok (or whichever character Havok is a smokescreen for), but that's not a done deal yet. [Variety]
The Avengers:
It was already pretty much official that Edward Norton wouldn't be reprising his role as Bruce Banner for The Avengers, but now consider it doubly super ultra official. Writing the sort of angry letter most people only associate with owners of the Cleveland Cavaliers, Norton's agent had some choice words for Marvel Studios president Kevin Feige: