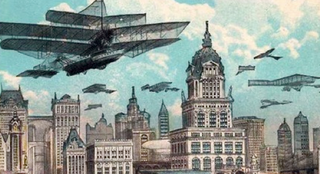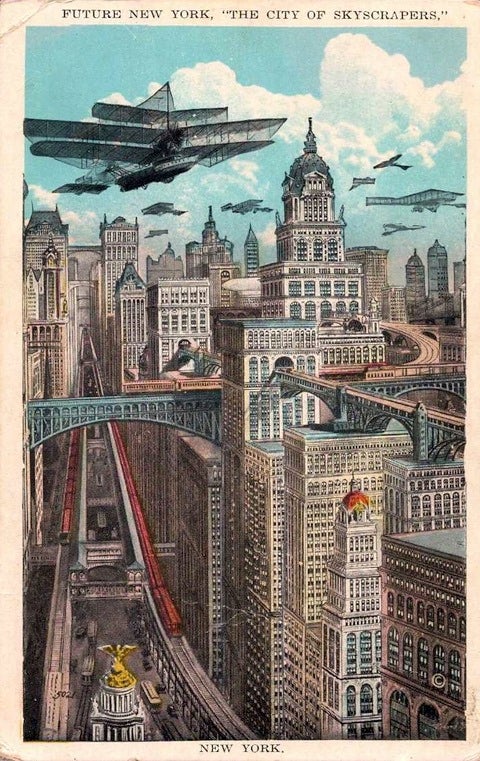 The postcard is from my personal collection, but the date I'm using is based upon Corbis Images.
UPDATE: Though the identical colorized image from Corbis may very well be from 1925, I've found earlier sources of this image from travel guide publisher Moses King, dating back to 1911.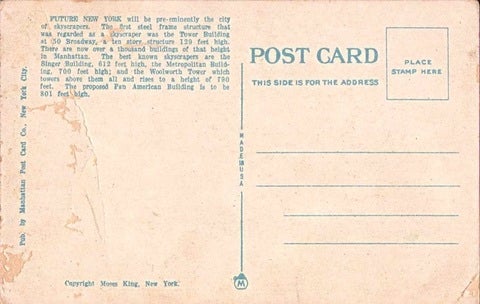 FUTURE NEW YORK will be pre-eminently the city of skyscrapers. The first steel frame structure that was regarded as a skyscraper was the Tower Building at 50 Broadway, a ten story structure 129 feet high. There are now over a thousand building of that height in Manhattan. The best known skyscrapers are the Singer Building, 612 feet high, the Metropolitan Building, 700 feet high; and the Woolworth Tower which towers above them all and rises to a height of 790 feet. The proposed Pan American Building is to be 801 feet high.
This post by Matt Novak originally appeared on Paleo-Future Blog. Email Matt Novak here, and follow him on Twitter as @paleofuture.