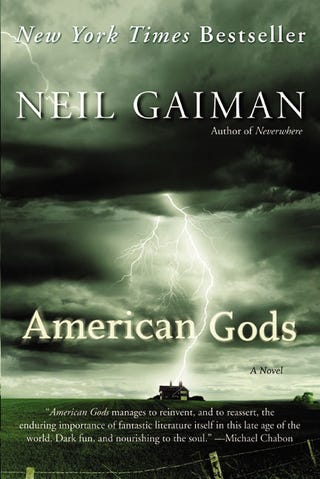 For many of us, it's still Independence Day weekend, and we're still grilling hamburgers and celebrating our country's freedoms. To commemorate the occasion, John T. Ottinger looks at a dozen science fiction books and stories that are uniquely American.
Topping the list is, ironically, a book by a Brit. American Gods, by Neil Gaiman, celebrates America's love of the sometimes weird and wacky with a multiple award winning novel. Its one of my personal favorites, not least of which is because the final battle between the Gods, the Ragnarok, takes place not 3 miles from where I earned my bachelor's degree, at the iconic Rock City. (Tangentially, another book in this vein, if you are interested, is Norse Code by Greg Van Eekhout.)
Those mentioned here are only the most obvious, but many other SF and fantasy writers, both historical and current, have dealt with themes associated with America or Americana. This list is by no means comprehensive, and I would challenge you to list others in the comments that I might have forgotten, never read, or simply did not know about. In particular, there are many other stories like Tenn's or Duncan's, and many novels like Turtledove's or Stirling's which I have never read or heard of, but I might like to. In particular, there is a dearth of truly science fiction tales (unless you classify the alternate history tales as SF) in this list, a lack I hope you can help me remedy.
What stories and/or novels have a very "American" feel, content, or theme to you?
This post by John T. Ottinger originally appeared at Grasping For The Wind.