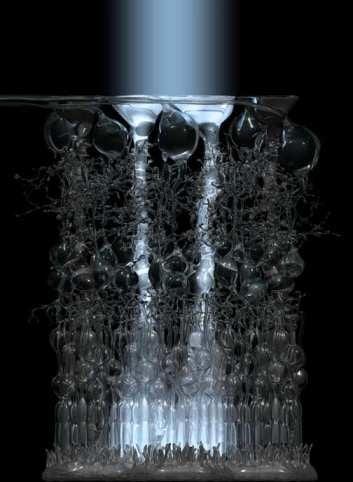 Scientists can now use optical tweezers, optical traps, and optical levitation to conduct delicate experiments. Optical.
The problem with modern biological science is that it deals with things that are unreasonably small. Gone are the days when being a biologist meant having a brush to cross-pollinate peas with, or a sketchbook to doodle pictures of iguanas in, or just a really good poking stick.* Sadly, the only thing that scientists learn when they poke things with sticks it that A.) some things go 'squish' when they're B.) poked with sticks. There are only so many papers to be squeezed out of this.




That's where optical manipulation comes in. Using directed beams of light, scientists are able to trap, grip, and levitate small materials. We've featured articles on sonic levitation, but sound waves are caused and propagated by the physical manipulation of particles of matter. Sonic levitation was matter moving other matter. Optical manipulation is light moving matter. Photons haven't even been detected as having mass. However, they do have momentum. Momentum has to be conserved. When light hits matter it moves off in a slightly different direction. In order for momentum to be conserved, the matter that pushed the light in one direction gets a little kick in the other direction.