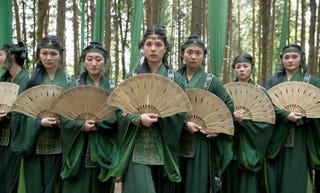 With over 20 episodes in Avatar: The Last Airbender's first season, we knew M. Night Shyamalan would have to cut a lot to adapt it. But what ended up on the cutting room floor could have really helped this film.
We've written a lot about the problematic casting in this film, making the cartoon's main Asian characters white, and we still think that was a huge mistake. But here are some of the other changes from the cartoon that, in retrospect, really didn't work out.
As silly-angry as we can get about non-canon moments in The Last Airbender, like showing the Fire Lords face so early in the game, they're not as important as other things that Shyamalan cut out — or didn't consider including at all.
The War
Taking a page right out of Star Wars, Airbender opens with scrolling titles that explain everything that happened before we meet Sokka and Katara. One could argue that this was very similar to the cartoon, which barely showed the great war that the Fire Nation started. But the original does show it, if only for a few seconds in the intro. And that image of the organized and aggressive Fire Nation quickly sets a tone for the cartoon's "bad guys." Right after the Fire Nation's appearance in the intro, Roku is seen commanding all the elements — bam. That's what an Avatar is, done. Had they actually shown Roku in the beginning, kicking a little elemental butt, it might have given all his copious other mentions, statue zoom-ins, and Fang the Dragon spirit-world sessions some weight. It might have even helped explain why the Avatar was so important. And why everyone was so sad/doomed when he disappeared and Aang ran off.
The only reason I can imagine why this wasn't included is because it would mean showing and not telling. And telling instead of showing was something Airbender took great pleasure in doing countless times. Plus, almost three years ago process M. Night stated that he wanted this to be the new Star Wars, so I guess it's only natural that it have long and confusing titles with little-to-no explanation, Phantom Menace style.