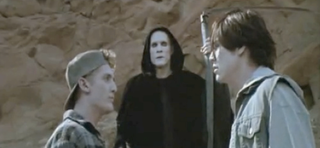 Just because you've got a mouthful of formaldehyde (instead of Jägermeister) doesn't mean you have to give up your party-hearty lifestyle deathstyle! Here are 10 documented ways you can become a weekend warrior for all eternity.
10.) Turn your skull into a bong.

Why give your body to a medical school, where a bunch of smarmy overachievers will use your small intestine as strings for the marionette that is your colon? Instead, donate your cranium to your broheims, who will use your brainpan to rip sticky dank nugs! You won't have a vote when it comes to picking out the music ("Shit brah, Dream Theater again?"), but at least no one will forget to pass you the pipe...because you are the pipe. Whoa.
Pros: You will become a conversation piece for decades; your skull is a bong.
Cons: Dubious legality. Some enterprising young stoners have attempted this on multiple occasions only to receive a stern rebuke from Johnny Law. Of course, these chuckleheads were grave-robbing. I'm no attorney, so I'm just going to say your legal mileage may vary.
9.) Give your dome to a production of Hamlet.
If transforming your skull into a pipe for your brosephs' "ELO evenings" isn't quite your speed, all you drama nerds can always bequeath your skull to your local theater department. After all, there's historical precedent for casting Yorick like this.
Pros: You're in the best scene of the show and you don't have to memorize any lines.
Cons: There's only so many productions that require skulls. Unless the theater troupe is curated by Gwar, there's no chance you'll receive a marquee role in Guys and Dolls.[as
8.) Display your body riding a sweet motorcycle.

When David Morales Colón of San Juan, Puerto Rico was murdered this April, he became internet famous after the funeral home mounted his corpse on his prized Honda CBR600 F4.