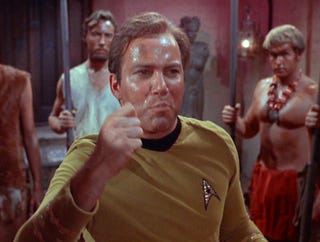 It's the July 4 weekend, so naturally our thoughts turn to independence, and bloody, lovely revolution. Unfortunately, overturning your colonial rulers is hard work. So we've collected tips from the ten greatest science fiction revolutionaries, to help you prevail.
John Sheridan (Babylon 5)
The lesson: Keep an ace up your sleeve.
When President Clark of Earth declares martial law, the Babylon 5 station breaks away from the Earth alliance, and Sheridan starts recruiting Earth colonies to join his uprising. The odds are way, way against Sheridan — but there's a reason why he's the only human ever to have taken out a Minbari warship. He has an ace in the hole: There are a group of telepaths who have been programmed to interface with the Shadows' vessels, but their programming has driven them nuts and they screw up all technology when you take them out of cryosleep. These telepaths were a minor plot point earlier in season three, but Sheridan forgets nothing, and just when you least expect it, he smuggles them aboard Earth ships and takes out a large portion of the Earth fleet all at once. He also does a great job recruiting allies, including ships from the League Of Non-Aligned Worlds. This show, in general, is one long tutorial in insurrection — there isn't a major character on the show who hasn't overthrown at least one planetary government.
The Authority (The Authority)
The lesson: Become the lesser of two evils.
The Authority only take over the government of the United States after there's been a series of hideous failures that blow up the whole state of Florida and nearly caused a war with a set of extra-dimensional aliens. It's time to clean house, and the Authority are the ultimate ass-kicking Roomba of justice. Of course, as the fantastic/weird Ed Brubaker run on the comic proves, taking power is the easy part for these guys — holding on to it turns out to be the hard part.

Luke Skywalker (Star Wars)
The lesson: Invalidate the governing ideology.
At the end of Return Of The Jedi, Luke doesn't just defeat Darth Vader in combat — he also proves that the Empire's main ideology is wrong. The Dark Side of the Force is not stronger than the Light Side. This is as powerful a blow against the Empire as launching a million X-wing fighters, because it undermines the Emperor's whole reason for being in charge. Instead of Vader converting Luke to the Dark Side, Luke brings Vader back to the light.

The Doctor (Doctor Who)
The lesson: Declare victory early.
The Doctor has overthrown more oppressive planetary governments than almost anyone. For a while there, he was toppling two or three a year.
His greatest revolutions, arguably, happen in "The Happiness Patrol," "The Sunmakers," and "The Long Game." And in all three cases, he's very interested in controlling the state's propaganda apparatus. This is especially true in "The Sunmakers," where he takes over the government's broadcasting center and announces that the revolution has been a success — before it's even started. Why wait until you've actually won to declare victory? Life is short, even for a Time Lord. (Go to about 3:40 in the video below.)