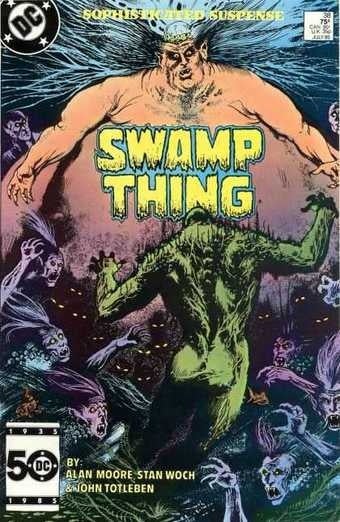 If you've never had the pleasure of reading Alan Moore's Saga of The Swamp Thing, this week's a good place to start. A new edition of the Bearded One's run is on the shelves, and it's creepy as all get-out.
This week. DC/Vertigo releases a reprint of Saga Of The Swamp Thing: Book 3. I'm going to go on record and say that Moore's Swamp Thing is my favorite thing he's ever done. Why is this particular volume noteworthy? First off, it's pure gonzo 1980s horror. Swampy fights a brood of absolutely disgusting aquatic vampires (the vampire queen is an obese, gag-inducing horror), and John Constantine makes his first ever chain-smoking appearance. On a whole, Moore's run is leavened with a sweetness you wouldn't expect from the cantankerous master. Even though Swamp Thing's a nature elemental/sentient hunk of moss, he's an immensely endearing everyman — he's just as confused about his powers as the reader is.
With Swamp Thing coming back to the mainstream DCU, now's as good a time as ever to catch up with his past exploits. Plus, he battles Batman's buzzsaw tank, but you'll have to wait until Volume 5 to see that duel.