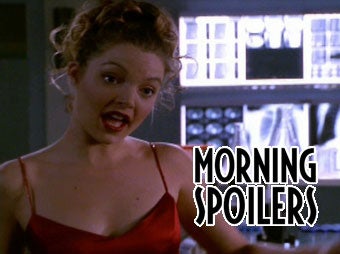 Just how gritty will Predators get? A new still provides a major clue. Doctor Who concept art shows a deadly foe. Jonah Hex reviews reveal all. Plus Walking Dead set pics, and Transformers, Scott Pilgrim, Twilight and True Blood spoilers.

Predators:
One new still from this upcoming jungle-planet action movie is not for the squeamish: It appears to be a Predator corpse, strung up and skinned. There are also pics of Adrien Brody looking muddy and vengeful and a Predator helmet, which may be new but look pretty similar to stuff we've seen before. [Shockya]


Transformers 3:
Last week, a Washington Post article indicated that Michael Bay was running into trouble, because he wants to stage explosions and a huge chase sequence at the National Mall in our nation's capital. But now a proud post on Bay's site indicates that that article was guff, and Bay has full permission to destroy the Mall utterly. If he wants to napalm the Lincoln Memorial too, no problem. It's all good. [TFLAMB]
Scott Pilgrim:
Edgar Wright tweeted that he's doing additional dialogue recording for this film, including Bill Hader, who nobody knew was in the film. Wright adds that those with sharp ears can hear Hader in the trailer. Everybody's taking this to mean Hader's the voice that yells things like "K.O." and "Combo," Mortal Kombat-style, during the fight sequences. [Gordon And The Whale]
Super 8:
Greg Grunberg, J.J. Abrams' pal who turns up in all his projects, says this movie is going to be amazing. And he's going to beg J.J. for a minor role in it. [MTV]
Jonah Hex:
Some early reviews are online, and let's just say they're not raves. But more importantly, they have some spoilers. The film starts out with Jonah on his horse, dragging three dead bodies. He rides into town to deliver these bodies to the local sheriff, and demands the reward. But the sheriff double-crosses Jonah, who is forced to unveil the gatling guns on his horse and take out the sheriff and his men, before finishing off the rest of the town with his six shooter.
Then we learn how Jonah Hex got supernatural powers from a Native American tribe after he was forced to watch his family burn. The culprit behind that whole burning thing was General Turnbull (John Malkovich) who's in hiding and attempting to steal the components of a new superweapon, invented by cotton gin inventor Eli Whitney (!). The U.S. government assigns Hex to find Turnbull and stop him, at which point we meet Lilah (Megan Fox) a sex worker with a heart of gold who's saving up to buy some land and loves some Hex. At one point, Megan gets captured and Jonah has to rescue her.
Oh, and Jonah has the ability to talk to dead people, although it makes him burn up — so Jonah raises Turnbull's son Jed (Jeffrey Dean Morgan) who gives him the dirt on Turnbull. (Jonah actually killed Jed himself, and that's why Turnbull killed Jonah's family.)
Jonah finds Turnbull's secret facility in North Carolina but he gets ambushed and has to kill everybody with his exploding crossbow pistol, which his friend the ex-slave sold him. Turnbull gets away, and he prepares to test his super-weapon, which shoots glowing red Dragonballs (basically) and which he wants to use to destroy Washington, D.C. And apparently the final show down is too much down, not enough show. Or something. Jonah wrestles with Turnbull, then jams his cannon so it blows up. Megan Fox shows up again at the end to shoot some people, after being gone most of the movie. [Comic Book Movie and AICN via Den Of Geek]
Producer Andrew Lazar talks about Megan Fox's character:
The role of Lilah actually has some depth to it as well. It's not just an action movie, there's dramatic scenes. We really felt that there's an edge that Megan has as an actress, that she can play both tough, and that longing - that she wants to get out of her life and she wants to connect to Jonah.
[IGN]
And here's a new clip of John Malkovich taking his revenge on Jonah's family for the death of Malkovich's son. [MTV]
Click to view

The Thing:
This prequel will hit theaters on April 29, 2011. [Shock Till You Drop]
The Twilight Saga:
Kristen Stewart is excited to tackle the final book, Breaking Dawn, and says Bella will be the coolest vampire of them all. [THR]
And screenwriter Melissa Rosenberg says the bloody vampire birth may actually happen offscreen, because it's more interesting not to show it. [Jezebel]