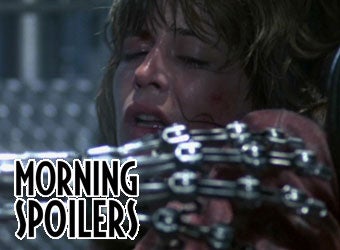 Watch a Predators TV spot and an Inception featurette! Glimpse Thor's Sif and Doctor Who's Pandorica! Which Starfleet captains will join Warehouse 13 and No Ordinary Family? Plus Cowboys And Aliens, Transformers, Undercovers, Eureka, True Blood, Buffy, Alien and Supernatural!

Predators:
A new TV spot gives you a bracing new look at the Predator pups in action. Plus a French TV spot gives the whole production more gravitas and existential angst.

Apparently there's a scene where two Predators fight, and one of them breaks the other one's blade, thus signifying that the other Predator has been pwned. And Topher Grace hints that his character has a secret:
Edwin is very different than everyone else in it. You're supposed to wonder why he was chosen when all these other similar types were selected. And there's a twist.
And Adrien Brody hints that you shouldn't hold your breath for a third-act mano-a-mano fight between his character and a Predator, as in the original film. But there is some of that in the mix. Tons more at the link. [BloodyDisgusting]
Thor:
Entertainment Tonight showed its segment on the making of this film, and it was mostly the stuff we'd shared with you before. But there was an extra second, which included your first glimpse of Jaimie Alexander as Sif. More pics at the link. [Superhero Hype]