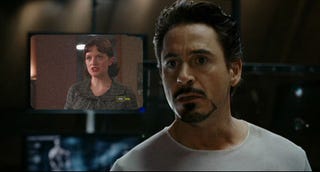 It's official, according to Entertainment Weekly's Mark Harris: television is better than movies now. We're in the middle of a summer of by-the-numbers movies, while TV is blazing new trails. Too bad science fiction rules the movies instead of TV.
Apparently this is the worst summer for movie box office in ages, according to Harris' article - which came out before The Karate Kid became a surprise hit, so there's that. The Memorial Day weekend box office was the lowest it's been since 1993, and everybody agrees there's a slump. (Sadly, Harris' article isn't online, so I can't link to it.)
It's also been a summer in which most of the big movies felt, as Harris says, like nobody really had a story they needed to tell. (Even Splice's detractors would admit it's an original film. And thank goodness, Inception is on its way.) But generally, it's really true that this feels like the most blah summer for movies in years. Even though we're finally seeing films that didn't suffer from the writers' strike, that doesn't seem to mean that the new batch of films actually had scripts or anything.
Meanwhile, it's hard to dispute that television has become the more revolutionary medium in recent years, thanks to shows like Glee, Mad Men, Breaking Bad, Lost, True Blood, Dexter and so on. But this is a hard message for genre fans to hear, at a time when the failure rate for science fiction and fantasy shows seems even higher than normal. And it's hard not to notice that the standard list of ground-breaking, innovative shows usually only includes a couple of genre shows - while any list of the biggest movies of the past few years will be dominated by science fiction films.
We've talked about this problem before. But if Harris is right, and television is becoming the popular medium that blazes new trails while movies run in circles, then where does that leave science fiction?